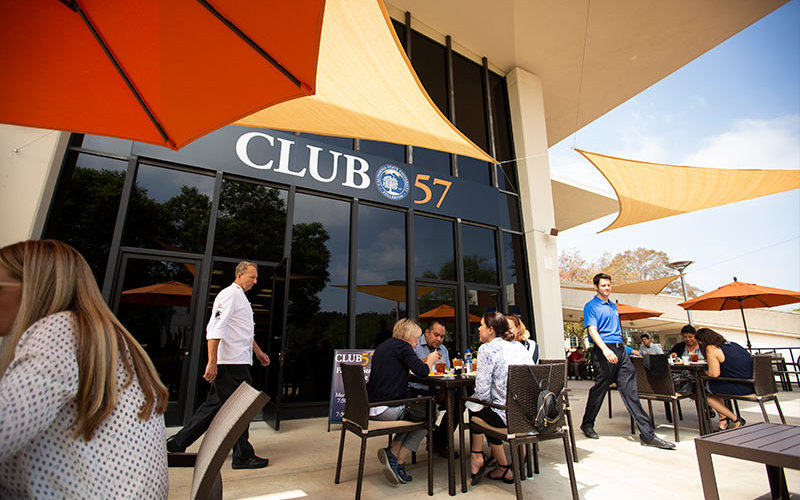 On its first day of full operation, Cal State Fullerton's Club 57 was bustling with lively conversation as faculty and staff members took advantage of the new space.
The university's first official faculty-staff lounge in more than 20 years opened last week, following a surprise announcement from President Fram Virjee at the Aug. 30 Academic Senate meeting.
"Club 57 is refreshing," said Robin Crew, chief of operations for the Division of Information Technology. She enjoyed dining with colleagues in the outdoor patio area, where they could watch "the hustle and bustle" of the campus community.
The lounge features approximately 80 indoor and outdoor seats, free coffee service every day, a charging station for electronic devices and a flat screen TV.
"I felt like I was at a restaurant," Crew added. "I am so excited to have another location on campus to interact and connect with my fellow Titans!"
Located in ​​Room 109 of Titan Shops, the lounge hours are 7:30 a.m. to 7 p.m. Monday through Thursday, and 7:30 a.m. to 5 p.m. Friday.
A variety of seasonally inspired meals are available for purchase Monday through Thursday from 11:30 a.m. to 1:30 p.m., and a punch card is available for frequent diners. Faculty and staff members also are welcome to bring their own lunches.
"I was here for the grand opening and it was packed. I came here last Friday and had coffee with a friend. I have a lunch meeting with a faculty member this week, where we'll buy lunch," said Laura Neal, career specialist for the College of the Arts. "But today, I brought my lunch to test out how it would work for a brown bag scenario and am thrilled this is an option as well."
Gordon Capp, an assistant professor of social work, is among the 25 new tenure-track faculty who joined the university this fall.
"I think it says a lot about the priorities and culture of our university that we value having a space that's designated for faculty and staff to help foster connections," he said.
For more information and the monthly menu, visit club57.fullerton.edu or call 657-278-7300.