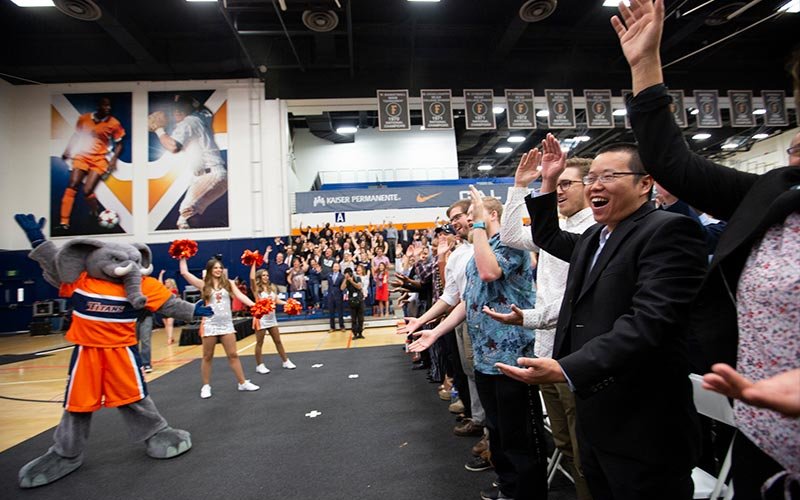 Energy, laughter and Titan spirit filled the gymnasium as Cal State Fullerton President Fram Virjee welcomed the campus community to a new academic year with a rap video featuring him and recent graduate Rachel Herzog '18 (B.A. business administration).
"You just learned two things," said Virjee at the Sept. 6 University Convocation. "First of all, I know how to make a fool of myself. And, we all know that performance was killer because of Rachel."
He pointed to Herzog as one example of thousands of Titans who personify the saying, "Titans Reach Higher." During her time at CSUF, the 2018 Outstanding Senior was a member of such organizations as the President's Scholar Student Association, Entrepreneur Society, Sales Leadership Team and Cal State DC Scholars program.
"Take a look around and you will find Titans reaching higher everywhere, every day. It's inspiring, and it's inspired by every new class," said Virjee.
"We see each of you for your promise," he said to new students in the audience. "We aim to enhance your strengths. Your intelligence is not fixed — it's a muscle that we can help you grow beyond your wildest expectations."
Virjee then cited a few more examples of "Titans reaching higher," including:
Alumna Lannee Tang, who despite spending her adolescent years sleeping on park benches, using drugs and facing food insecurity, was accepted to CSUF where she became a tutor and mentor for underrepresented students, president of the Master of Social Work Association, and graduated with a B.A. in sociology and a master's degree in social work;
Faculty members like Julián Jefferies, associate professor of literacy and reading education, one of only 26 members in the entire Cal State University system recognized with the 2018 CSU Faculty Innovation and Leadership Award;
Taylor Dockins, a sophomore on the Titan softball team who earlier this year responded to a liver transplant and a rare form of cancer by pitching the 57th no-hitter in the team's history;
and Berenecea J. Eanes, vice president for student affairs, the only staff member in the CSU system to be recognized with the 2018 Wang Family Excellence Award.
Virjee also recognized founding members of the Titan family — students, faculty and staff from 1957-69 — who gathered earlier in the day for a brunch at the Golleher Alumni House and were invited to stay for Convocation.
"We have another saying on campus, besides 'Titans Reach Higher,' and that is 'Once a Titan, Always a Titan,'" said Virjee. "That saying is brought to life by some of our most distinguished guests here today, our Founding Titans."
Josh Borjas, president of Associated Students Inc. — along with fellow ASI members, orientation leaders, mascot Tuffy and the Titan Spirit Squad — led the crowd in learning the Titan Clap.
Borjas recalled his own experience as a first-generation college student, unsure of how he fit into the Titan community. Following an orientation leader's advice to "give it a shot," Borjas joined the ASI Street Team, became an orientation leader and tour guide, founded a fraternity on campus, served as a student senator for the College of Communications and a resident adviser before becoming ASI president.
President Virjee and Borjas then led the campus community in reciting pledges to each other to engage in the campus community and to "dive into" the Titan experience.
"Join one of the 300 student organizations you saw out there at Discoverfest, and if there's not one out there for you, start your own," said Virjee.
"Use your voice to articulate what you want to see on our campus and around the world, run for student government, join a fraternity or a sorority, go to an athletic event, wear Titan gear, vote, study abroad, immerse yourself in undergraduate research programs, go see our performing arts, be part of our Diversity Initiatives and Resource Centers, become a mentor, become a tutor, become a campus leader.
"Be present, be active and above all else, be Titans."
The livestream video of Convocation is available on the Titan Communications website.