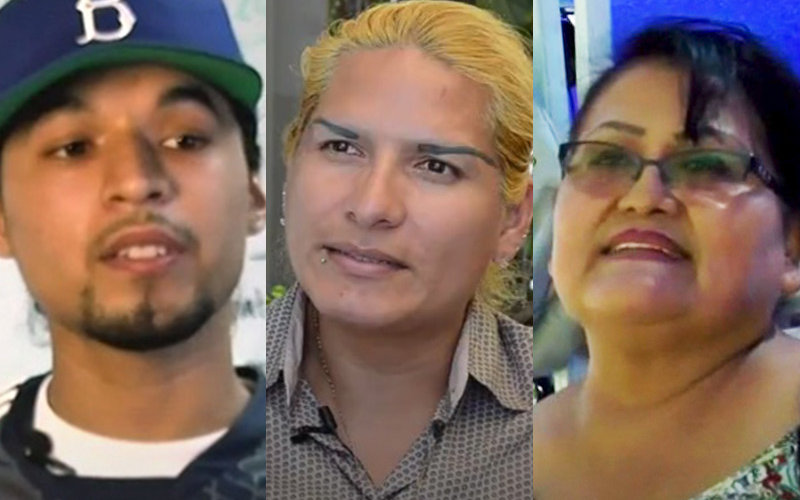 A national social justice campaign by Rise Up: Be Heard now has a Titan's advantage with three video shorts created by a communications graduate and two seniors.  
The three Titans recently completed video projects that were published on Univision Contigo as part of Rise Up: Be Heard, a social impact initiative of Univision Communications, Inc. that provides mentorship and publishing opportunities to young journalists. The videos share the struggles of transgender immigrants, street vendors and teens in Resilience Orange County, which helps formerly incarcerated youth.
"This was a good way to dip into the field and fix the problems I would encounter on the job before I'm actually there," said senior Vania Patino. "This makes me feel a lot more confident about applying for jobs in the future."
Alumna Brenda Villa and seniors Patino and Regina Yurrita were selected from 44 entries in a May campuswide pitch contest and were mentored by professionals at Univision Contigo as they worked for nearly two months to report, film and produce the stories.
Patino, a member of Latino Journalists of CSUF, produced a story about low-income street vendors and their fight to provide for their families. Villa, a DACA recipient, focused on the treatment of transgender women in detention centers. Yurrita's story focuses on juveniles served by Resilience Orange County, and the lack of community support for the young people. Yurrita also is an executive producer for "Al Día," CSUF's student-produced Spanish news broadcast.
"It was a pleasure to work with students so talented, and so committed to lifting up voices in our community that deserve to be heard," said Jacob Simas, program manager in corporate affairs at Univision Communications Inc. "Univision is proud to call CSUF a partner, and we look forward to doing more together in the coming months to support our next generation of Latinx journalists, and bring light to issues that directly impact our audience."
All three Titans were members of the Latino Communications Institute, a College of Communications workforce-preparedness program that supports development of U.S.-Latino cultural competency. Many LCI students are first-generation college students who find life-changing training, internship connections and mentorships through the institute.
The institute and the college's curriculum offer immersive opportunities on and off campus, where students gain a competitive edge and real-world experience producing professional-quality news on deadline, said Inez González, LCI director.
"We know this experience will open doors for these content creators," she said.
Patino said the experience gave her insight into the worklife of a journalist. She struggled to find sources and schedule interviews, and dropped everything she was doing to attend a protest while researching her story about street vendors.
"Being able to say that I have worked with Univision producers, have gone live on a newscast and have reported in the field all give me the confidence and legitimacy that I need to apply to jobs," she said. "Having an opportunity like this Rise Up: Be Heard contest has elevated me to a competitive level, where I need to be."    
Watch the videos
All three videos are posted on the Univision Contigo site and on the Rise Up's Facebook page.
Learn more from the students
The trio will share the videos at "The Hispanic Experience in Orange County," a Thursday, Sept. 20, presentation as part of the Osher Lifelong Learning Institute's Diversity Series. The 2:15 p.m. program will be held in the Mackey Auditorium of the Ruby Gerontology Center. Jesus Ayala, a communications lecturer, will speak briefly about "Al Dia." The event is open to the public.
The students also will appear on "Edición Digital" individually Sept. 25-27 to discuss their work.