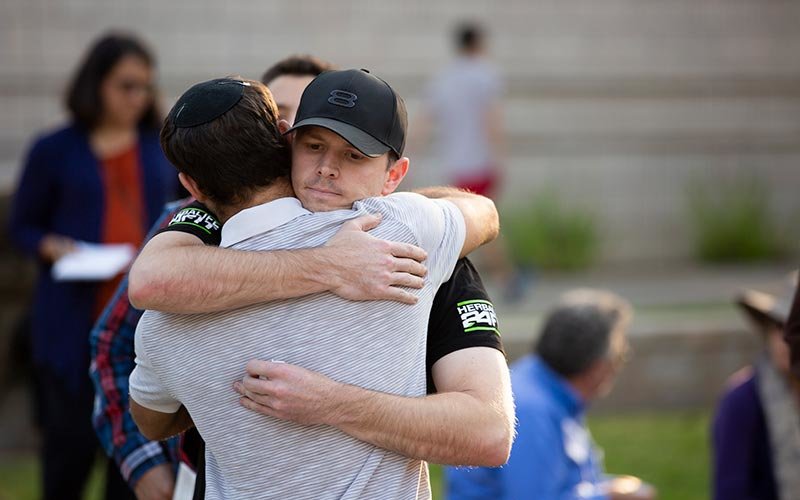 The campus community gathered Oct. 30 in a solemn vigil to honor the 11 victims of the tragedy that occurred Saturday, Oct. 26 at Tree of Life Synagogue in Pennsylvania. Held on campus, speakers from the university's chapter of Hillel, OC Hillel, students, faculty and members of the community shared words of comfort.
Daniel Levine, staff programmer with OC Hillel, led the group in prayers and songs that Jews have turned to for strength and comfort for thousands of years.
"The Jewish people sang these songs when they were removed from Rome, when they were sent to concentration camps, when they endured deadly wars," he explained. "Our songs of mourning often start with prayers of hope. We recognize the need to come together as community in times of tragedy, but our focus, even in times of sadness, is hope." 
CSUF senior Rifka Pruss, who is pursuing a double major in communications and Spanish, spoke of the "lives lost to baseless hate." She was in synagogue when she heard the news of the shooting. "We are saddened and angry," she said. "But we are not afraid. We are a resilient people." 
Following the service, an infant was being prepared for his bris — a ceremony where he is given his Hebrew name and "the fullness of his soul is brought into the world. And yet, just before that, 11 people lost their lives just for being Jewish," Pruss added. "But as Jewish people, we move on. I invite all of you to perform a mitzvah (a blessing) in their honor."
Another student, political science senior Luke Rodriguez, talked about how all the victims led "lives of purpose." 
"I especially want to point out Dr. Cohen, a physician who attended the synagogue and knew the victims," he said. "He was at the hospital when the shooter was brought in, and he and other Jewish doctors treated him, showing him compassion."
Freshman Yoni Kruri expressed appreciation to the university. "I feel like I have a home here because of the Jewish community on campus."
Alumnus A.J. Mindel '11 (B.A. business administration-entrepreneurship) was a member of Jewish fraternity AEPi while he was a student. "Outside of mourning, we must continue to reach out and teach tolerance," he said. "We are all created equal in the eyes of God. I appreciate what the students, faculty and administration are doing in support of the Jewish community."
The vigil closed with a prayer and those in attendance were encouraged to write notes of hope and encouragement that will be sent to Tree of Life Synagogue. 
"In honor of the victims, perform a mitzvah, an act of kindness or charity," Levine concluded. "In troubled times, let this be a message of hope."