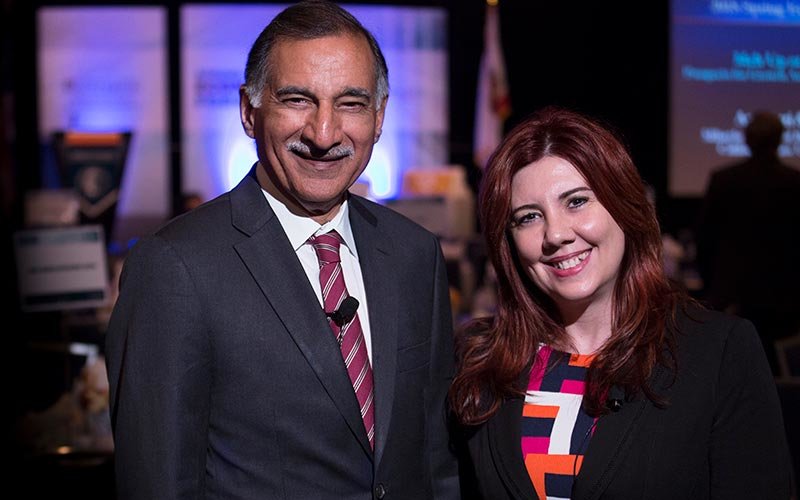 Trade wars, a slowing global economy, rate hikes, and the threat of a volatile stock market have the business community asking "Have we reached the end of a nine-year economic expansion?"
Cal State Fullerton's Mihaylo College of Business and Economics economists Anil Puri and Mira Farka said in their spring forecast that Southern California might dodge a recession for the next two years. They're preparing to answer the lingering questions in their 24th annual Fall Economic Forecast and Conference, "Game Changers: Taxes, Trade, Tariffs and Trumponomics" on Thursday, Oct. 25.
"The economy has tremendous organic momentum juiced up by a large dollop of fiscal support," said Farka, who leads CSUF's James and Jeanette Woods Center for Economic Analysis and Forecasting with Puri, a provost emeritus. "But everyone is asking if it is overheating and whether this is the last dance before it sinks into a recession."
More than 700 regional business leaders are expected to attend Farka and Puri's fall presentations on research and analyses at the national and regional level, and policy advice on economic issues.
Fueling the speculation are three risks, says Farka: the escalation of a trade war, the slowing of a global economy and the question of how fast the Federal Reserve Bank will "tighten." When "the Fed" tightens, the stock market wobbles, and that creates a dislocations across the globe, she said.
"It's the 10-year anniversary of the financial crisis," she said. "People want to know how much we have learned from our past mistakes and whether we are likely to repeat them again.'"
The duo's presentations will highlight retail and employment, and target trade and its impact on Southern California, including tariffed goods coming through local ports as compared to the nation, in addition to a labor market survey of more than 700 regional business professionals.
The 11:30 a.m. – 1:30 p.m. Oct. 25 program hosted by the center and the Orange County Business Council and sponsored by U.S. Bank will be held at Hotel Irvine, 17900 Jamboree Rd., Irvine.
The cost to attend the forecast is $175 per seat or $1,600 for a corporate table of 10. Sponsorships are available. Reservations are required and can be made online.