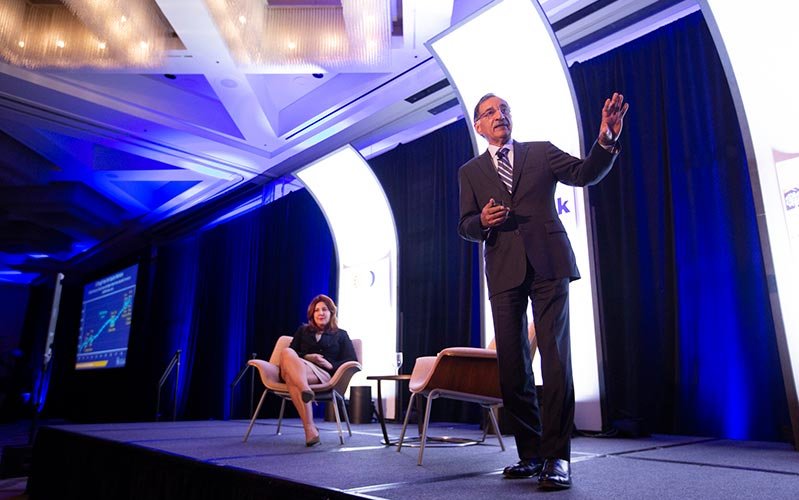 Cal State Fullerton economist Mira Farka characterizes the economy's recovery as many tiny, agonizing and sputtering starts over the past nine years. The nation's anticipation of a strengthened expansion grew with each year.
"This is it. This is the moment," she said. "This is what I would call the economy's Spartacus moment," she told an audience of 700 business leaders at Thursday's 24th annual Economic Forecast. "Like Spartacus, the economy is finally on fire."
Metric markers show the economy is outperforming its eight-year trend so far, she said.  
Real GDP growth averaged 2.2 percent from 2010 to 2017, but this year it is at 3.2 percent
Business investments averaged 5.2 percent growth in the same span and is now about 7 percent
Real disposable income averaged 2.3 percent growth and is now at 3.5 percent.
 
"Underneath the knobby warts of the recession and the painfully slow recovery, a much brighter, sunnier and more radiant portrait has appeared of an economy that is finally basking in the glory of healthy, robust, organic growth," the economists wrote in their 50-page report.
Farka and Puri lead the Woods Center for Economic Analysis and Forecasting, producing a spring and fall forecast each year. Puri is a provost emeritus and past dean of Mihaylo College of Business and Education. Farka, an associate professor of economics, joined the Titan faculty in 2005 and previously worked on Wall Street as an economist with Deutsche Bank.
"Things have gone so well, that economists have found something else to worry about," Farka said. The Wall Street Journal polled economists and asked when the next recession would hit. About 5 percent predicted a recession next year. A full 60 percent think it will happen next year, and about 22 percent said it will hit in 2021.
"The chances of recession right now are very small: one in 1,000," Farka said. "Things are actually better than they sound. Things are heating up, but we're not overheating," she added.
So how's the region's economy performing in comparison to the nation?
"Employment has been going up and business people seem optimistic," Puri said.
"For the first time, there are more job openings than there are people looking for jobs," Puri said. Orange County job growth could remain strong, at 1.6 percent, but employers aren't facing the usual culprits such as sales, taxes and government regulations. They're concerned about the lack of quality of labor, he added.
Payrolls have swelled, averaging 200,000 jobs per month in the first nine months this year. That's higher than last year's healthy pace of 187,000.
He summarized the region's strengths this way:
Orange County has gained more than the number of jobs lost in the recession since 2010.
Home price appreciation has settled between 5 and 10 percent over the past four years in all counties of Southern California.
The median single-family house price hit $800,000 in May for Orange County, an all-time high.
Orange County unemployment has recently been at historic lows.
 
While the center's Orange County business poll, the OCBX, showed that most local business people say the biggest threat to the U.S. economy is political turbulence, Puri and Farka agreed the biggest threat could be the global outlook. Taxes, tariffs and "Trumponomics" remain volatile and while the U.S. economy is on the run, the world's economy has slowed.
The report reads: "Given America's apparent comparative advantage in services, it would seem prudent that the administration, while fighting to open more markets for American goods, should also pursue aggressive trade deals that promote exports of U.S. services. Escalating trade frictions on many fronts with many trading partners seems to be a strategic mistake. It would be more beneficial, for example, to first solve disputes with countries that tend to mostly play by the rules and display a united front against those who don't."
The Eurozone is always in a constant state of risk, added Farka.
"All I can say is pray for Europe, because they could snuff the life out of the expansion for us."