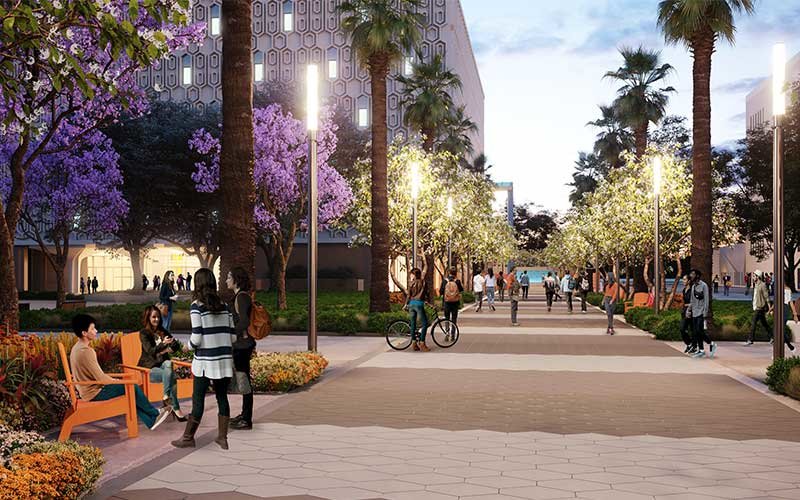 Demolition is set to begin soon on the first phase of a 15-month beautification and fire safety project that will extend from Nutwood Avenue to the northeast entrance of the Pollak Library.
The project will create a new welcoming entrance to the campus with a gateway into a promenade between Langsdorf and Dan Black halls through to the east entrance of the library.
"Cal State Fullerton is an active, vibrant and proud university of significance," said President Fram Virjee. "I am very excited that we'll soon have a fitting gateway to the heart of our campus, with our Titan pride on full display for all to see."
The work, in part, is driven to provide easier access for emergency vehicles having to reach the Pollak Library and adjacent campus buildings, said Danny Kim, vice president for administration and finance. The new fire lane will meet current safety codes and allow the continued occupancy and renovation of the building's upper floors.
"As we worked with the state fire marshal on plans to improve the fire lane and replace aging concrete from Nutwood Avenue, it became clear that we had the opportunity to transform this thoroughfare into something very special," Kim said.
"During our campus master plan exercises last spring, students, faculty and staff told us overwhelmingly that they value Cal State Fullerton's outdoor spaces," he said. "This is a very intentional project not only to beautify the campus but to support outdoor learning, meeting spaces and enjoyment."
Phase one includes replacement of the walkway, steps and seating areas on the north side of the Quad in front of the south entrance of the library. The area will be transformed into the library's "front porch," with pavers, new steps and furniture.
Expected to start later this month will be demolition and grading of the walkway and fire lane from the southwest corner of Langsdorf Hall to almost the east entrance to the library, including installation of an eye-catching campus "gateway" near Langsdorf. The promenade will feature decorative pavers, new LED lighting and WiFi towers, landscaping and furniture with ports and outlets to provide informal learning spaces. Work is scheduled for completion before commencement 2019.
Phase two, set to begin in February 2019, will include the extension of promenade improvements along the east side of the library, and an expanded outdoor seating area for the building's Starbucks. This work is expected to be completed before fall semester 2019.
The final phase, set to begin after commencement 2019, will include reworking of the south side of the Quad to provide more level-ground space, a better configuration and amenities for gatherings, events and performances. Construction completion is expected by the end of 2019.