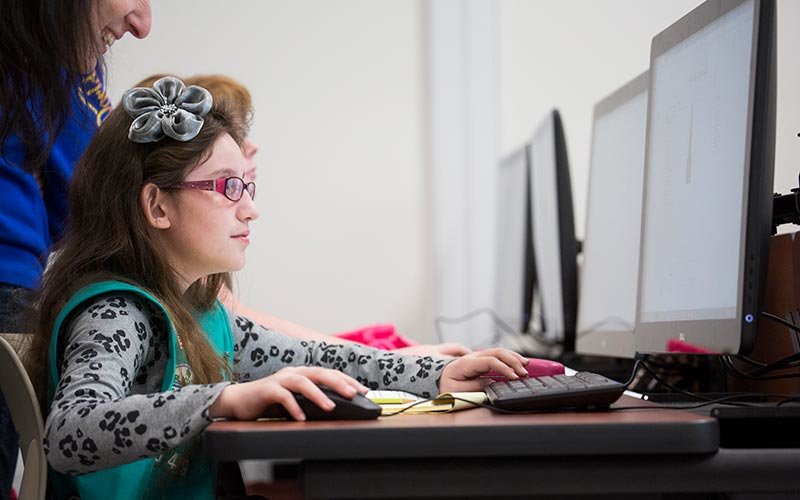 Cal State Fullerton computer science students and faculty members are partnering with Girl Scouts of Orange County to present the Sunday, Oct. 28, STEM Expo on campus.
The third annual event, expected to draw up to 400 local Girl Scouts in fourth through eighth grades, features hands-on activities on topics such as astronomy, robotics, 3D printing, cybersecurity, circuits, climate change, DNA, forensic science and more.
"The STEM Expo promotes the understanding of the STEM workforce pipeline among young female students, engages the community in encouraging and motivating the younger generation to pursue STEM disciplines, and provides extraordinary mentoring and community collaboration opportunities for Titan students," said Susamma "Susan" Barua, dean of the College of Engineering and Computer Science.
The event is produced in partnership with engineering and computer science students, under the leadership of the Association for Computing Machinery-Women in Computing student chapter, CSUF computer science faculty members and volunteers from the Girl Scouts of Orange County STEM Patrol.
"Students get to use their most in-demand skills and interests to mentor a younger generation interested in STEM," said Lauren Sukumar, vice president of the Association for Computing Machinery-Women in Computing student chapter and a double major in computer science and business administration. "The girls get to see an interactive sample of the endless ways science, technology, engineering and mathematics can be applied."
More than 20 CSUF student clubs, as well as industry partners, will provide hands-on STEM education to a young female generation, noted Doina Bein, assistant professor of computer science.
"It's important that our student leaders are leading by example to engage girls and young women in STEM," added Beth Harnick-Shapiro, lecturer in computer science.
New this year is Career Corner, where women in STEM, including Bein and Harnick-Shapiro, will speak with girls about their experiences in the field and in the workforce.
Event sponsor and exhibitor Kofax, headquartered in Irvine, will provide an interactive robotics experience for girls with the Dash robot. Kofax is a supplier of intelligent automation software to automate and digitally transform end-to-end business processes.
"Girl Scouts of Orange County is thrilled to partner with Cal State Fullerton and present the STEM Expo," said Vikki Shepp, CEO of Girl Scouts of Orange County. "Through hands-on STEM experiences, Girl Scouts learn key skills like communication, collaboration and innovation."
Though the STEM Expo is not open to the public,  journalists, including photojournalists,  are welcome to attend the 1-4 p.m. event in Titan Student Union Portola Pavilion.