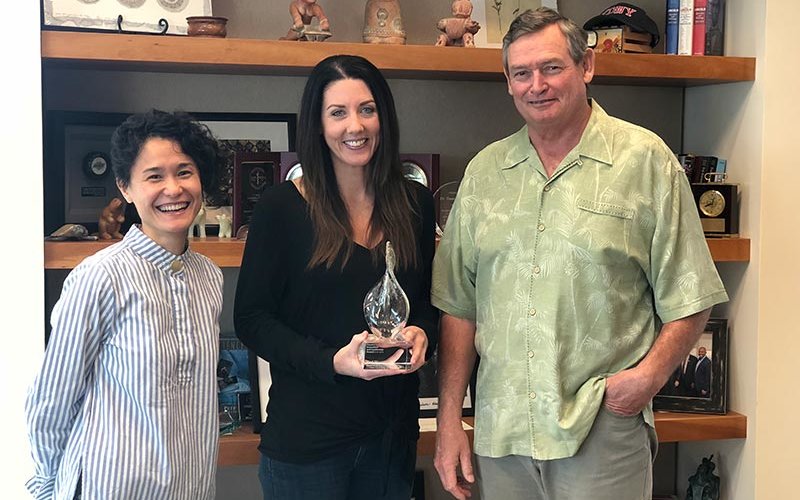 Hiromi Takizawa's mission, which she gleefully accepted, was to lead her students in the design and creation of 26 pieces for the California State University's inaugural Faculty Innovation and Leadership Awards.
Commissioned by the CSU Awards Council, the assistant professor of art tasked 20 students with designing a handblown glass piece.
"We had a four-week turnaround. I made it into an assignment — students did research, made a prototype and wrote a proposal," says Takizawa, coordinator of the glass program in Cal State Fullerton's College of the Arts.  
Three classes in intermediate and advanced glass blowing participated in the project. After a team critique, three student designs were submitted to the CSU Chancellor's Office. Natalie Martin's design was chosen for the CSU awards, along with Deshon Tyau's layout for the seal and title engraving of the base. 
Of her piece, "Ignite," Martin wrote: "Given the concept of innovation and achievement, I envisioned the idea of a flame as the basis for the award. Every great thing begins with a spark of inspiration, which, fanned correctly, turns into a flame burning bright. I pictured the upwards momentum of the flame, and used that image as the basis for the swirling glass work that resulted." 
Production began in late September, with students working in the hotshop to mold, blow and shape the 26 pieces, then jumping into the "cold work" of sanding, cleaning and polishing.
 "These classes are always about collaboration — everybody has to help each other," says Takizawa, a two-time College of the Arts alumna.  "We divided the team into three. It's almost like playing a team sport. Everybody has a role."
Julián Jefferies is the recipient of one of the awards designed by CSUF artists. The associate professor of literacy and reading education points out that the glass pieces, much like the awardees themselves, are unique: "They bring their own uniqueness to innovating class and out-of-class experiences to help students think critically about society."
 
Takizawa also points to the importance of students appreciating — and seeing others value — handmade work. 
"So much is manufactured and made by computers these days," she says. "It's important to society that we are still creating things by hand — that artists are still making one-of-a-kind handcrafted objects."