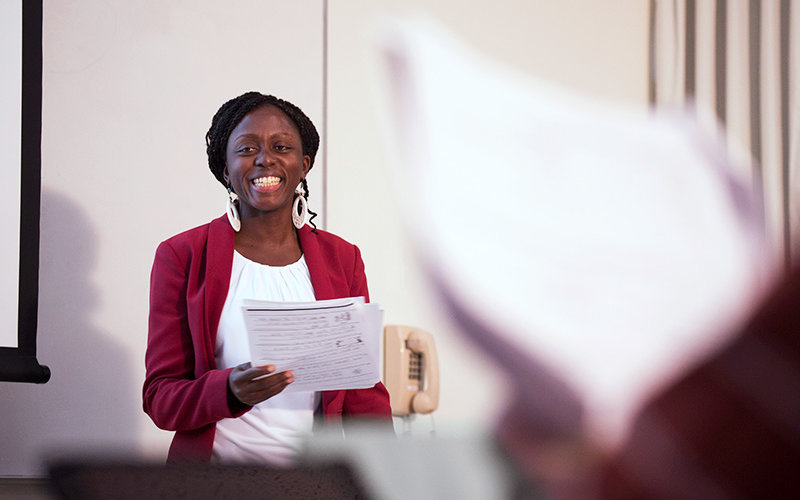 'Educators in Action" is the theme for the Nov. 13-15 Education Week celebration, featuring activities and resources for future teachers, an online conference on educational topics and a research symposium. All events, presented by the College of Education, are open to students, faculty and staff members and the public.
A book drive is being held to collect new and slightly used books for children ages 4-17, which will be donated to local schools. Donations may be dropped off Nov. 13-15 at the College of Education office, Room 500 of College Park, and at the Education-Classroom Building in Room 379.
"Education Week is an opportunity for students and others on campus to learn about the impact of earning a teaching credential or degree in education, and also gives current students and alumni the chance to share insights about the field of education," said Lisa Kirtman, dean of the College of Education.
Highlights are:
Tuesday, Nov. 13
11:30 a.m.-1 p.m., Pollak Library, Room 130 — "Financial Aid for Future Teachers," hosted by the Center for Careers in Teaching, and featuring financial aid experts who will present information to help students navigate financial resources.
4:30-7 p.m., Titan Student Union Pavilion — "From Research to Practice: Commemorating Our Legacy of Change," featuring research presentations and a panel discussion with alumni from the Ed.D. program. The symposium is hosted by the College of Education in partnership with the Educational Leadership Department and the Center for Research on Educational Access and Leadership, which is celebrating its 10-year anniversary.
11 a.m.-1 p.m. Wednesday, Nov. 14, Titan Walk (between Pollak Library and Titan Student Union) — "Future Teacher Festival and Club Resource Fair," featuring information about the College of Education's teacher preparation programs, services and resources.
5 p.m. and 6 p.m. Thursday, Nov. 15 —" Online Conference," with College of Education faculty and alumni presenting topics related to education, including "Inquiry, Science, and Social Justice" and "Not-So-Smartphones?" To attend the online conference, RSVP with Jamie Reim and visit online to access conference.
For more information, visit the College of Education website.