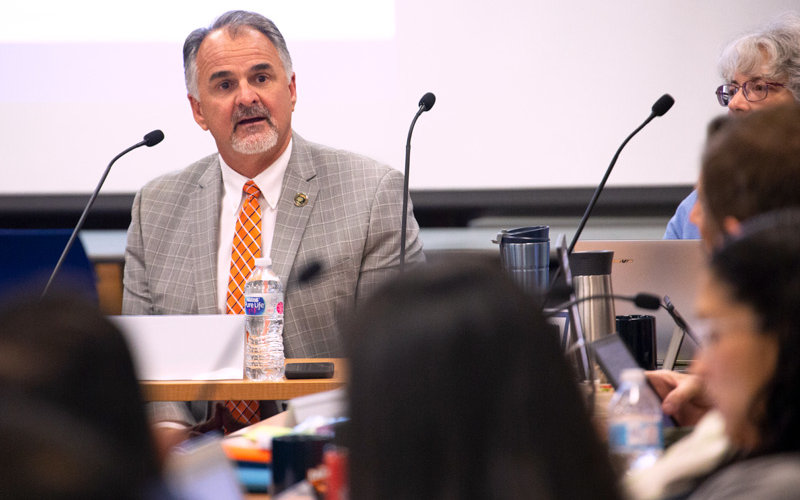 This year's budget, said President Fram Virjee, speaking before the Nov. 15 Academic Senate "underscores … the need to be strategic, to be nimble, to innovate," when it comes to spending the budget allocated to Cal State Fullerton.
In the Fiscal State of the University address, Virjee and Danny Kim, vice president for administration and finance/chief financial officer, joined together to stress that while the university received additional funding in the current budget, the bulk of it continues to go toward salaries, benefits and financial aid.
The campus must therefore focus on the need to protect current programs, as well as continue to serve students and be accessible, the president said.
"The good news," Virjee stressed, is that the university has closed the deficit to about $1.1 million, "which is a good thing … and next year we will try to have a balanced budget" without further dipping into the university's reserves.
"The 2017-18 budget results were as expected," said Kim, noting the bulk of spending occurred in the areas of instruction, institutional support, student services, and operation and maintenance of the campus.
In the current budget, the state allocation covered 47 percent of the university's operating budget with the balance made up from tuition and fees for a total of $436,840,833. Additional funding, including lottery, parking and other funding streams, brought the total annual budget to $569,802,405. The bulk of the university's expenditures by program is instruction.
Discussion continued on the full-time enrollment growth and CSUF's continued standing as the lowest funded campus per pupil spending in the California State University. Kim pointed out, however, that the amount per pupil has increased for Fullerton and that the system is continuing to focus on making inroads in parity between the campuses.
Critical budget matters beyond the current fiscal year, Kim noted, are the increases in benefits costs, capital and deferred maintenance, and the impact of the CSU's Graduation Initiative 2025 on headcount and revenue.