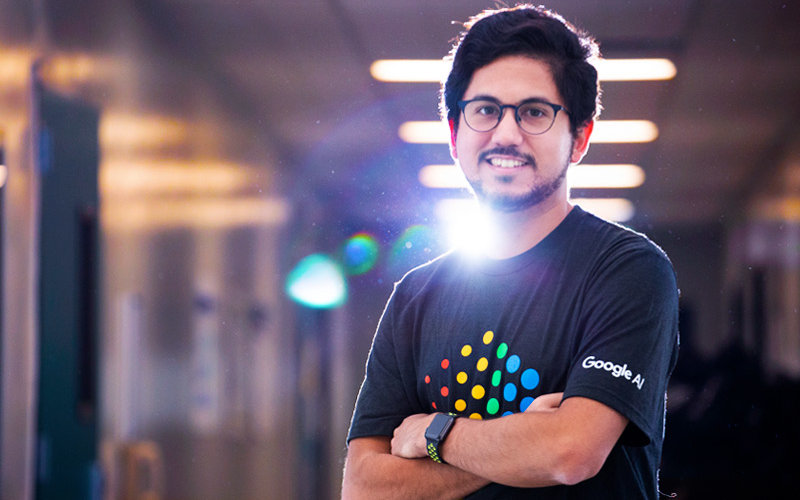 When freshman Zach Hofmeister stepped into the "Introduction to Programming" course this fall semester, he was surprised, yet excited that his instructor is a Google software engineer.
"I thought it was really cool," said the computer science major. "It's nice to know you're learning from someone who has a lot of experience."
From learning to write basic code to getting the inside scoop on landing a job in the tech sector, Luis Larco of the Google in Residence program co-teaches the course with Kevin Wortman, associate professor of computer science. Larco helps teach two classes covering the concepts of programming, and provides computer lab instruction. 
Computer engineering major Alexis DeSotel relayed that Larco has helped her by being readily available to answer questions and explain concepts and materials.
"It's beneficial to have a professional from the tech industry come in to teach students due to their immediate knowledge of what the industry is looking for in potential future employees," she said.
The introductory-level course can be daunting for first-year students, Wortman noted. But Larco's enthusiasm and knowledge will hopefully motivate students to stick with computer science, he added.
"Luis gives our students a different perspective of the tech industry and teaches hands-on skills that are relevant in today's workforce," Wortman said.
Skills Larco is introducing to students include how to use Git, a version control software, and GitHub, which is a web-based hosting service for version control using Git. Both Git and GitHub are tools that are heavily used in the industry, Larco said.
"It's been great to see the students get familiarized with these skills during their first computer science course, which also gives them an advantage when working on group projects or applying for internships and jobs," Larco added.
How do you hope Google in Residence will improve diversity in the tech industry?
The goal is to boost retention in the major by motivating students early on, and providing real-life instances of how what they're learning can be used in the real world. In the schools we've worked with so far, we've already seen some positive impact, including reports of increases in the number of students receiving tech internships and full-time roles throughout the industry.
What do you hope to accomplish with CSUF students?
Besides teaching the topics of the course, I want the students to learn that coding is fun, and to prepare for the style of job interview questions through the assignments and examinations.
Why did you want to teach?
Teaching has always been one of the things I'm very passionate about. I believe that we do a great service by not only using our knowledge to do great things, but to also share that knowledge with other people so that they can do great things.
What do you hope to achieve personally at CSUF?
I'm aiming to use this experience to better understand how we can make the computer science education experience better for freshman students, and how to make them understand that everyone can succeed both academically and professionally in the tech field.
What do you tell students about working at Google?
Most students ask me about the perks — the free food, nap rooms, gyms — but some of the great things I have shared with them include the awesome people you get to work with and the scope of the projects you get to work on, such as working on products that are used by millions or even billions of users.