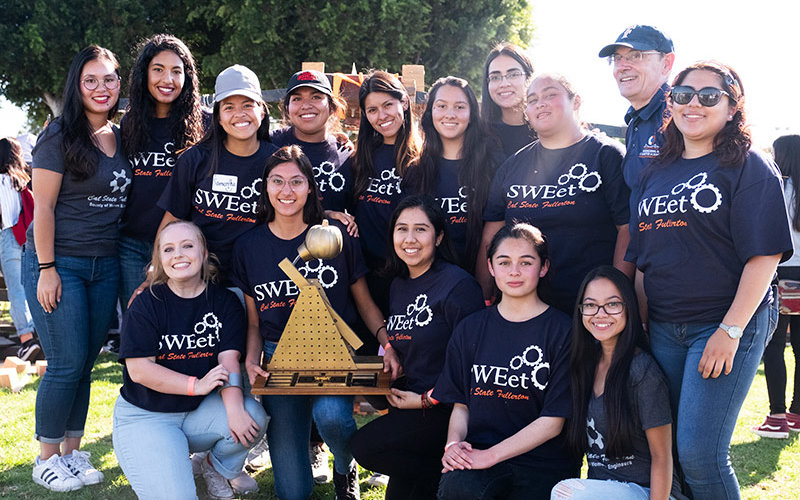 It was a sweet victory for Cal State Fullerton's Society of Women Engineers as the student team had a smashing time winning first place in the annual Pumpkin Launch.
While the all-female team took home the sought-after Pumpkin Trophy, the Institute of Electrical and Electronics Engineers (IEEE) student chapter seized the second-place award at the Nov. 3 competition.
It was the second time the Society of Women Engineers (SWE) has won first place, and the seventh time they have placed in the Pumpkin Launch. The team of future engineers and computer scientists won first place in 2013 and tied for third place in 2017.
"It's a huge accomplishment for SWE to win this competition because of the great amount of commitment all the members and officers put in to build the launcher," said chapter president and electrical engineering major Samantha Soto, adding that the team built a new crossbow-style launcher for this year's pumpkin chucking. "Our goal was to be as accurate as possible to hit the targets."   
The women's team, which garnered a total of 50,000 points by hitting the medieval-themed targets, was the only team to score in the first round. The team also consistently hit targets and lobbed a pumpkin into the hole of the nearest target to score additional points for accuracy.
At the 11th annual event, held on campus and hosted by the College of Engineering and Computer Science in partnership with Discovery Cube, 12 teams competed, including five CSUF student teams. Student and community competitors designed and built custom-made trebuchets, catapults and other pumpkin-launching contraptions to fling pumpkins at targets.       

"This is high-impact education at work. This is the very definition of the immersive Titan experiences we pride ourselves on," said CSUF President Fram Virjee, who with his wife, Julie, were among attendees who cheered on the Pumpkin Launch teams.
Virjee, who joined in the fun and helped launch a pumpkin for the IEEE team, added: "Perhaps more importantly, it is the kind of academic event that inspires and encourages the next generation of STEM students to come to college, where they can transform their lives and earn a degree that propels them to professional success."