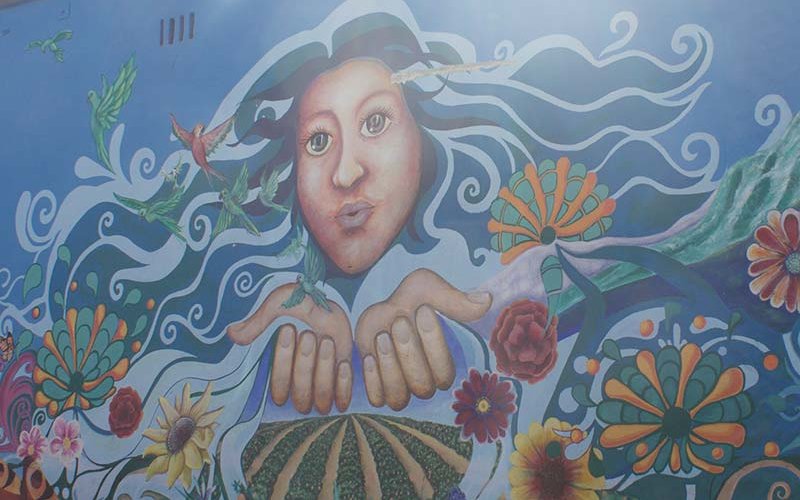 Cal State Fullerton's Department of History and nonprofit organization California Humanities are partnering to present a Digital Humanities Colloquium and launch the Mapping Arts OC digital platform, which maps and showcases Santa Ana's public murals and utility boxes.
The colloquium, "Crafting a Bigger Smarter Humanities Dataset Using Santa Ana's Public Murals," will feature three student presentations and a keynote address Wednesday, Dec. 12, from 2-5:15 p.m. in Pollak Library, Room 360.
"Mapping Arts OC: Researching Public Art in the Digital Age" by Ryan Allen, Ryan Brillhart, Mariana Bruno, Carl Privette, Cynthia Sanchez and David Wells
"History in Action — Creating Mobile Walking Tours of Santa Ana Murals" by Lionel Arellano, Jonathan Higbee, Katie Horstman, Tory Ingram, Gabriel Luebben-Rivera and Natalie Vandercook
"Illustrative History — Designing a K-5 Narrative Coloring Book Featuring Santa Ana Murals" by Alex Blaa, Maximillian Nupen, Scherly Virgill and Caroline Young
"Think Like an Anthropologist, Act Like a Designer, Feel Like a Human" keynote address by Lara Kirby Pardo, founder of Mapping Arts and Blackbird Arts and Research
On Thursday, Dec. 13, the partners will host the public launch of the Mapping Arts OC digital platform from 5:30-8:30 p.m. at the Makara Center for the Arts, 811 N. Main St., Santa Ana.
CSUF digital history students will lead a coloring and youth story hour beginning at 5:30 p.m., featuring the custom-designed "Mapping Arts OC Narrative Coloring Book" and other stories.
A roundtable discussion on "This Is Not a Timid Art: Reflections on Muralism, Urbanism and Negotiating Public Space" will take place from 6:30-8:30 p.m. Speakers include Erualdo González, CSUF professor of Chicana and Chicano studies; Kevin Cabrera, executive director of the Heritage Museum of Orange County; Manuel Escamilla, Santa Ana-based community archivist and urban planner; and Lara Kirby Pardo, founder of Blackbird Arts and Research.
Both the Dec. 12 and 13 events are free and open to the public. For more information, contact Jamila Moore Pewu, assistant professor of history, at jmoorepewu@fullerton.edu.