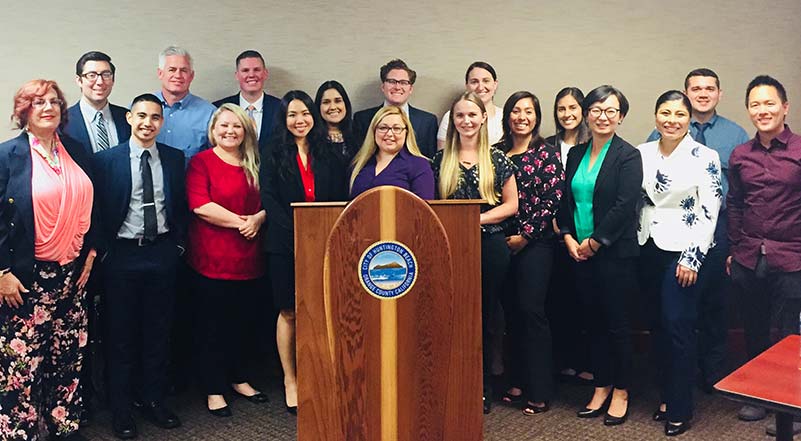 As public sector agencies tackle the long-anticipated demographic shift from baby boomers to Generation X and millennials, the city of Huntington Beach is no exception. City leadership estimates that more than 30 percent of its current 950 employees are eligible to retire right now.
Last spring, students in Cal State Fullerton's "Public Organizational Theory and Behavior" class partnered with the city to study four of its employment categories: accounting, analyst, clerical and engineering.
"The project was about how to better recruit and retain employees for Huntington Beach, and in some cases, streamline or consolidate positions," said Meriem Doucette, assistant professor of political science and course instructor.
Master of public administration student Grace Yoon-Taylor was assigned to the analyst category alongside fellow graduate students Caleb Brown, Chari Howard, James Newcomb and Andrea Raez.
The group reviewed current human resources processes and researched best practices at other cities, before proposing and justifying strategies to recruit and retain the most qualified candidates.
"Our team members met weekly to discuss and explore different ideas to help the city identify the best candidates and increase retention with three goals in mind: revamping job requirements, streamlining hiring process and improving the quality of candidate pool," explained Yoon-Taylor.
"We had to make sure those ideas were creative yet realistic, given union constraints and cost-saving needs. Our final product was a presentation in front of the city management team, as well as a proposal."
The group's solutions included updating certain job titles from "administrative" to "management" to match appropriate position duties, testing candidates for writing skills and ability to prioritize tasks, and creating a Management Assistant Internship program to develop a pipeline of talent.
Antonia Graham, who serves as Huntington Beach's assistant to the city manager and has worked in local government for 18 years, said the city plans to launch the students' proposed internship program in spring 2019.
"I am a fervent believer in applying what you learn, whether it be through an internship or through hands-on projects," said Graham, who received her bachelor's degree and M.P.A. from Cal State Fullerton. "These types of learning experiences help students better understand what they are learning and how theories that you learn in class are applied to or are tweaked to make the organization better.
"I believe the CSUF M.P.A. program is one of the best and really prepared me for my local government career," added the alumna.
Yoon-Taylor said the "real-life experience was critical" in her securing a paid position with the Huntington Beach city manager's office. "The combination of classroom learning, hands-on experience in the field and a deeply rooted network with the local government community is, I believe, our M.P.A. program's biggest strength."