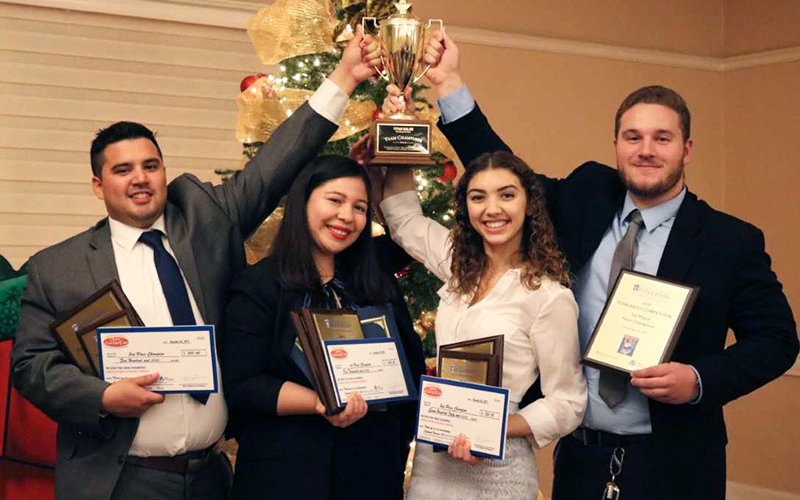 Three business administration majors used their quick thinking and powers of persuasion to take top individual awards during the recent Titan Sales Competition.
Twenty-one other Titans faced off against seniors Taylor Medina and Skylar Martinez, and junior Rachel Griffin but none could match them in the judging. The threesome, with teammate and fellow business senior Justin Griot, also won the top team award.
"It was an amazing experience not only to partner with our corporate sponsors and learn more about their companies, but also to grow and define our skill levels on a sales pitch," noted Medina, who is completing a certificate of professional sales and is a member of the student board of the Sales Leadership Center, which put on the competition.
Competitors were given two case studies for local companies Henry Schein Dental and SoCal Office Technologies. For five weeks, they trained and prepared for the competition with representatives from the sponsor companies, explained Brad Anderson, co-director of the Sales Leadership Center in Mihaylo College of Business and Economics.
During the Nov. 30 contest, contest participants gave 15-minute sales presentations to the "buyers" during role play scenarios.
The competing students faced 17 judges — representatives from the center's sponsor companies, including Henry Schein Dental and SoCal Office Technologies.
"This was such a great opportunity," Medina added. "It was such a cool opportunity to be able to showcase our skills to these recruiters. It validated all the hard work our team put into it."
Medina, who will graduate in May, won a $1,000 scholarship; team mates Griffin won $750 and Martinez, $500, for their individual achievements.