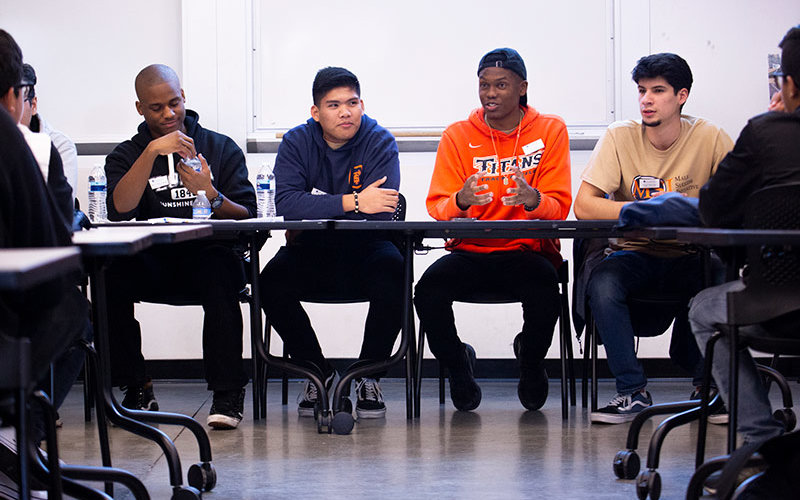 Fielding questions about academic rigor, clubs and organizations, food and living on campus, scholars from Cal State Fullerton's Male Success Initiative shared personal insights with local high schoolers Jan. 18 during the third annual Male Youth Empowerment Conference.
"Don't be afraid to get involved on campus," they encouraged. "There's a club for anything you might be interested in. Try to find your niche."
The MSI scholars spoke candidly with the ninth- and 10th-grade students, reassuring them that "things that mattered in high school don't matter in college" and even funny roommate incidents "help you grow as a person."
The conference, coordinated by MSI-Fullerton and CSUF Educational Partnerships, brought nearly 300 students from Century, Compton, Kennedy, Los Amigos, Roosevelt and Santiago high schools to the university for motivational speeches, workshops, campus tours and more.
Conference sponsors included Orange County United Way and the Now Boarding Corp. Campus partners included the College of Education, the Division of Student Affairs, Titan Shops and Titan Gym.
Welcoming the high schoolers to campus, President Fram Virjee appointed them "honorary Titans" and urged them to consider attending Cal State Fullerton, where nearly 60 percent of students are the first in their families to graduate from college.
"You're coming to a place where there are people just like you," he said. "Every year, we graduate thousands of students and their lives are forever changed.
"You not only belong in college, you belong anywhere and everywhere that you want to go in life," continued Virjee. "You do not lack the means to success. You have the tools, the tenacity, the character, the courage, the intelligence and the persistence to do this. With those gifts, you will discover your potential at this university."
Also highlighting the conference theme, "Discovering Your Potential," was keynote speaker Charles Dorsey. The Compton-raised motivational speaker, leadership expert and preacher shared how he went from being a fourth-grade student "who got sent home all the time" to a graduate of college, theology school and a doctoral program.
"It doesn't matter where you are today because you've got potential," Dorsey declared. "It's okay to struggle, but what's going to dictate whether or not you're successful is whether or not you take advantage of the opportunities that come your way.
"Never let an opportunity pass you by."
Under the leadership of Vincent T. Harris, CSUF's Male Success Initiative is dedicated to supporting and advancing the potential of undergraduate men of color by providing tailored programming and services to foster academic success, establish a network of mentors, increase graduation and retention rates, and strengthen the sense of brotherhood among them. For more information, visit the MSI website.