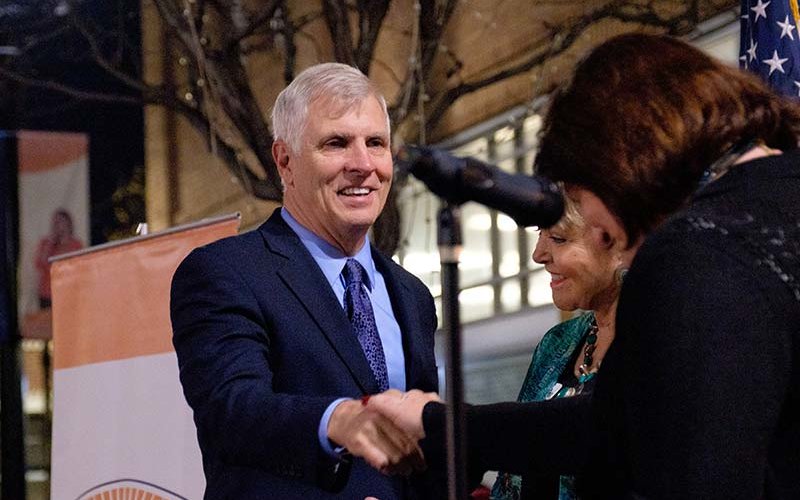 Standing on a podium with the Grand Central Art Center behind him, newly elected California State Sen. Tom Umberg (34th District) participated in a community swearing-in ceremony before hundreds of supporters. Among the speakers at the Jan. 10 program was Cal State Fullerton President Fram Virjee.
In opening remarks, Virjee thanked Umberg for his support of the campus.
"Now I know Tom is a Bruin and we forgive him for that," he said as the crowd chuckled. "But he is also an honorary Titan. He has always supported us, serving on Cal State Fullerton's Philanthropic Foundation Advocacy Committee, and providing the university with support and advice on navigating budget initiatives with the state legislature."
Turning toward Umberg, Virjee announced, "So we claim you as an honorary Titan. We look forward to your continued advocacy and an even greater partnership on behalf of all Titans as you embark on this next phase of your lifetime service."
Umberg thanked the president and those assembled and said he was pleased to serve in the California State Senate representing the fifth largest economy in the world and the people in his district.
"The 34th District represents a diverse and vibrant community," he said. "In this district, 18 different languages are spoken, there is economic disparity, a lack of affordable housing and problems for our coastal neighbors because we have a president who doesn't believe in climate change but likes off-shore drilling. I never forget that those in elected office are servants of the people who elected us. We get calls from people who don't understand how to apply for MediCal, who have questions about regulations on small businesses, who need assistance. We should be helping them.
"My goal is not to demonize people I don't agree with," he continued. "If we don't agree on the solution to a problem, we need to sit down and address the problem collaboratively, not insult one another. I want to rise up and meet challenges and, with your help, we'll make a dent in those challenges."