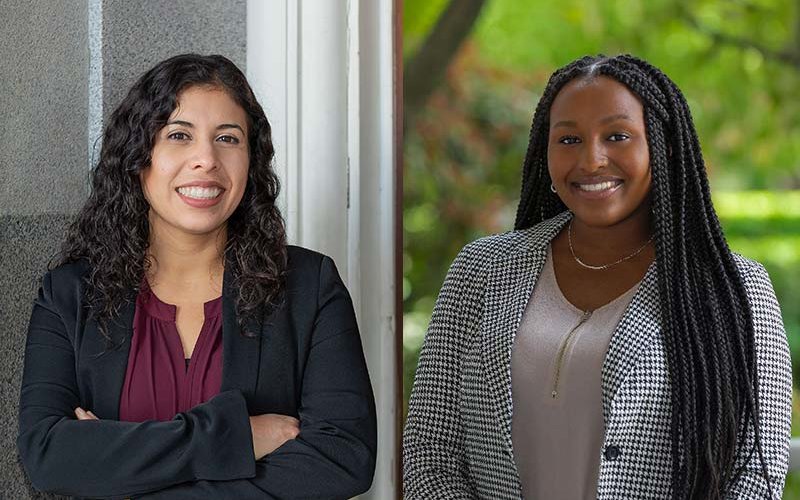 From Santa Ana to Sacramento, two Cal State Fullerton alumni are gaining firsthand experiences in California's government branches as members of the 2018-19 class of Capital Fellows.
Phyillis Macharia, a judicial fellow at the Superior Court of California's County of Orange Central Justice Center, and Minerva Jimenez, an executive fellow at the California Business, Consumer Services and Housing Agency, were among 64 selected for the fellowship program from a nationwide pool of 1,200 applicants.
The Capital Fellows Program, administered by the Center for California Studies at Cal State Sacramento, prepares college graduates for careers in public service. Over the course of 10-11 months, fellows engage in policymaking and program development while also completing academic assignments and participating in educational seminars. Fellows receive a monthly stipend and work toward the completion of a graduate certificate in applied policy and government.
"During my fellowship, I have learned about the procedures of our community court and witnessed the benefits rehabilitative services provide for our community," said Macharia, whose responsibilities include research, correspondence and public information enhancement. "This has allowed me to observe how the court can be an advocate for a marginalized population."
Macharia '17 (B.A. political science) said participating in immersive learning experiences as an undergraduate student — including CSUF's Model United Nations team, College Democrats, Panetta Congressional Internship Program, Pi Sigma Alpha political science national honor society and Black Student Union — helped prepare her for the fellowship.
"I believe my education at CSUF prepared me to be a flexible, punctual and ardent young professional," she said. "After transferring from community college, the CSUF community embraced me with open arms and I was encouraged to pursue the many resources the university had to offer. CSUF prepared me to be more than just a good student; it taught me how to evolve and adapt to various environments."
An aspiring attorney, Macharia hopes to one day represent disadvantaged communities. "I want to be the voice for the voiceless and the helping hand for those who are helpless," she said. "More importantly, I plan to lead a life of advocacy."
In Sacramento, Titan alumna Jimenez '15 (B.A. psychology) is preparing for a career in urban planning and aims to help develop low-income communities. As an executive fellow, her weekly activities include researching, writing reports and attending meetings.
"It has been very rewarding to see how state and local government work together on homeless initiatives and housing developments," she said.
Jimenez credits CSUF faculty members Emily Lee, professor of philosophy, and Jeffrey Brody, professor emeritus of communications, for encouraging her to "step out of my comfort zone" and expand her skill sets in a variety of areas.
"Dr. Lee's class prepared me to analyze and present arguments from different perspectives. Professor Brody's class taught me how to use writing, video and photography to communicate narratives effectively," she said. "Both skills have been useful in any field that I have entered."