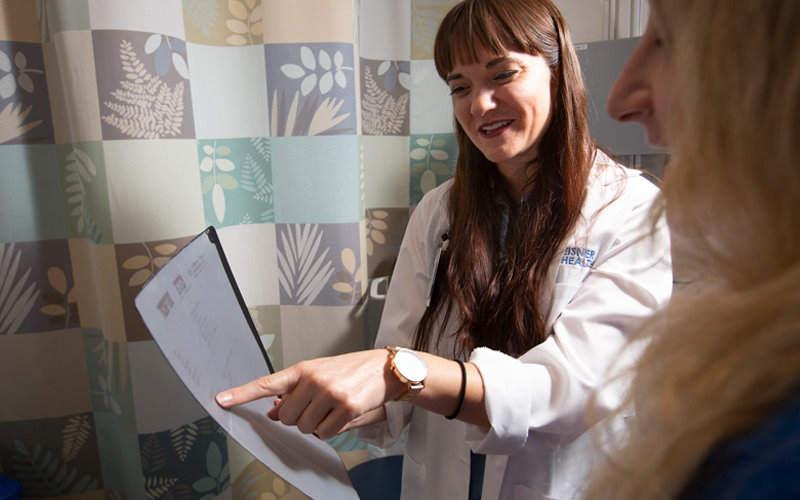 Sherae Van Hoosen decided on her career path while pregnant.
The graduate nursing student in Cal State Fullerton's women's midwifery/women's health nurse practitioner program remembers having a midwife at her side before, during and after her two pregnancies. "I really bonded with her," she says. "She was there for me during my first pregnancy, which was difficult — mentally and physically. The nurse-midwife was the person who stayed with me.
"I thought that was really worthwhile. As a midwife, I think of the person as a whole individual. I can have a greater impact by working with women throughout their entire lifespan and through all aspects of their health," she adds. "I can't picture doing anything else."
Worldwide, midwives are at the center of maternity care and tend to the vast majority of births. Although this has not been the case in the United States, nationally an increasing number of women seek midwives not only for pregnancy and birth, but also for contraception and pre- and post-menopause care.
"It's not just birthing and babies," confirms Ruth Mielke, associate professor of nursing in the College of Health and Human Development. "Midwives provide primary care for women throughout their lifespan. There is a huge need for women's health care beyond pregnancy. The birth rate in the United States has remained the same but the number of women in their 40s to 60s who require women's health services has increased."
According to a recent American College of Nurse-Midwives trends report, "the growth in the number of primary care physicians will not be adequate to meet demand by 2020." The American Congress of Obstetricians and Gynecologists agrees, reporting that the shortage will be "18 percent by 2030 and 25 percent by 2050."
Cal State Fullerton has become an in-demand institution for the education of nurses trained specifically for midwifery/women's health care. Ranked among the nation's top programs in the field, according to U.S. News & World Report, it is one of only two universities that offer a nurse-midwifery program in California, and admits only a fraction of the student applicants who apply every year.
The program also strives to have students who are reflective of their communities. "Our students are very diverse," says Mielke, a practicing certified nurse-midwife/women's health nurse practitioner. "Especially in Southern California, it is vital that we train nurse-midwives who not only look like their patients but can speak their language and understand their cultural beliefs."
THE RIGORS OF PRACTICE
CSUF has offered the midwifery/women's health nurse practitioner concentration for nearly 16 years, with graduate pass rates on the American Midwifery Certification Board and National Certification Corporation exams at 100 percent since 2013.
The graduate program includes more than 50 units of coursework to provide nurse-midwives with a strong foundation in primary care, research, theory and practice. In addition to coursework, students complete nearly 1,000 hours of clinical practice under the tutelage of community nurse-midwives and nurse practitioners.
"In our program, we are experience-focused," says Mielke. Like her fellow educators, the women's health care concentration coordinator also works in a medical facility. "We understand the impact of sharing something that just happened and telling students how it feels to be in that situation — and how we handled it."
"I had been in practice for seven years, serving in intensive care," says nurse-midwife and 2017 alumna Emily Carter. "Even before entering the program, I was drawn to the idea of becoming a midwife. I realized that it was a good fit and that I was passionate about working with women in every phase of their reproductive lives."
The university's educators were one of the reasons Carter chose the program.
"I did a ton of research and learned a lot about the faculty," she explains, citing faculty members BJ Snell and Mielke. "They are such big influencers in the field. I was really lucky to study under them."
Angela Sojobi, assistant professor of nursing, says one of the things that drew her to joining the faculty at CSUF's School of Nursing "was the interest they had in students' success. They make sure students are prepared to care for women in every capacity — rural, urban, clinic and hospital — and in every aspect of women's care."
Not only do students work with faculty, they learn to be a part of a collaborative whole, working with other health professionals as well as with their patients. They also become part of a cohort that support each other in their studies and clinical experience, notes Sojobi.
REAL-WORLD NEEDS
A point of pride for the School of Nursing is its Nursing Simulation Center, which is designed to look and feel like a clinic.
Students work with low- to high-fidelity mannequins to simulate situations they will face as women's health nurse practitioners and midwives. The program also has a cadre of volunteers who serve as patients, reacting and asking the type of questions real patients would.
In addition, the CSUF program partners with hospitals and clinics to offer training in real-world situations. "Students are in the field often, working directly with patients in both large urban hospitals and clinics," says Mielke, adding that students are required to put in between eight and 40 supervised clinical hours per week throughout their studies.
"The clinical experiences were so useful," agrees Carter, "including working with preceptors who serve as great mentors. I felt so fortunate working with my preceptor. While she seemed to be relaxed and easygoing, she always had a solid handle on what was going on."
The latest partnership — with Mountains Community Hospital and Rural Health Clinics — places students in mountain clinics in Lake Arrowhead and Running Springs, where they train in 15 nine-hour shifts, working with older and low-income patients.
"Working in a rural clinic made me realize how much I don't know," says graduate Ayesha Walden, who has worked the last two years in labor and delivery. "There is so much more to this process than just delivering a baby."
Despite the demands of going through the rigorous program, working and completing clinical rotations, "students love it," says Mielke, who directs the "Rural Women of the Mountains Accessing New Services" program that is supported by a U.S. Department of Health and Human Services, Health Resources and Services Administration grant totaling nearly $1.5 million.
"Access is a huge issue for people in some rural areas," stresses Mielke, noting that nine of California's 58 counties do not have any OB-GYNs, according to the American Congress of Obstetricians and Gynecologists. "The program exposes students to why some patients don't avail themselves of some services, including the challenges of access and poverty. It's very humbling."
Collaboration, top-notch classes and wide-ranging clinical experiences lead to a highly trained and fully qualified graduate.
"Our graduates have no trouble finding placement after graduation," says Mielke. "They learn to believe in the innate ability of women to birth well, but also are trained to intervene when cases become more complicated. In addition, our graduates are cognizant that safe and satisfying health care can occur at home, in birth centers and in clinics, as well as in hospitals. Finally, they learn how their role as a nurse-midwife or women's health nurse practitioner is critical to meeting the health care needs of women in the United States."
"Every time I go to work I feel so lucky to be able to do this job," says Carter, whose practice serves the underserved. "Cal State Fullerton's nursing-midwife program gives support and guidance to students, whatever career path they seek. They helped me find my own way."