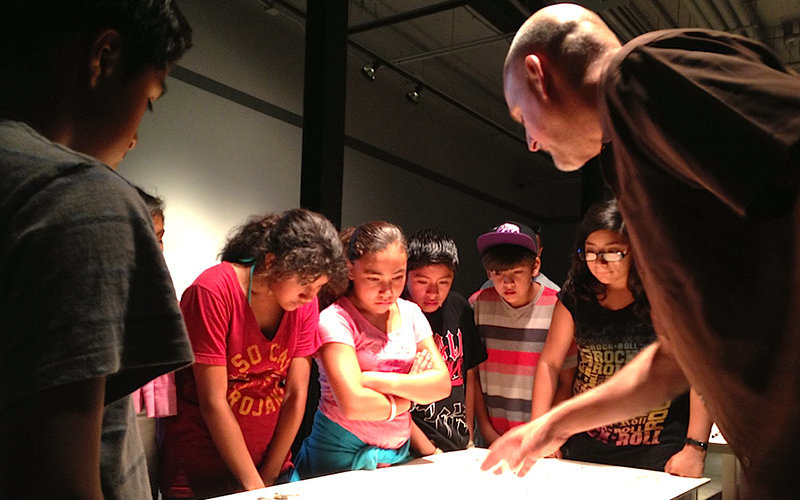 It's been 20 years since Cal State Fullerton partnered with the city of Santa Ana to create a dedicated space where art, education and community could converge.
Recently recognized by Santa Ana for its "Spirit of Collaboration in the Arts Community," Grand Central Art Center is "a space where the community has been invited to explore possibilities for the creative process and creation," says John Spiak, director and chief curator, who joined the center in 2012.
Mike McGee, professor of art, co-founded Grand Central Art Center in 1999. "Mike is the reason we're here," states Spiak. Over the past 20 years, scores of art graduate students have enjoyed studio, living and exhibition space at the center, while residency projects and collaborations with artists such as  Cog•Nate Collective have resulted in a flurry of artistic and cultural expression in the heart of Santa Ana. Since 2014, the center has received two grants from the Andy Warhol Foundation for the Visual Arts in support of its artist-in-residence program.
"Much like most university art museums — UCLA's Hammer Museum, Arizona State University Art Museum, University of Washington's Henry Art Gallery — this is a point of entry for individuals into the academic world," says Spiak. "We have a lot of young people in Santa Ana and this becomes an introduction to higher education. We're able to engage them and even promote that the university exists, engage them in conversations about conceptual thinking and let them see what it's like to work as a contemporary artist — but also tell them about other options on campus and about jobs that are available in the arts."
"Since its inception, Grand Central Art Center has made its mark in Santa Ana's rich community as part of Cal State Fullerton's pursuit of art education and celebration of creative expression," says Dale A. Merrill, dean of the College of the Arts. "The center allows us to enhance our students' experience while encouraging further exploration of the arts in Orange County and our community."
Among the center's most recent collaborative accomplishments is the serial broadcast opera "Vireo: The Spiritual Biography of a Witch's Accuser," which received two Emmy nominations, as well as a 2016 Multi-Arts Production Fund grant, and will soon be released as a DVD/CD box set. Lisa Bielawa's artist-in-residence project also is being workshopped at the Philip Glass Institute at the New School in New York, with a live version scheduled for 2020.
In celebration of its 20th anniversary, GCAC is holding a reception and special events Saturday, March 2, beginning at 7 p.m. Twenty cakes, to be served throughout the evening, will commemorate projects realized by artists with the center. Events are free and open to the public, and include an interactive performance by artist-in-residence Lucas Murgida and Jennifer Levonian's cutout animation, "Lost Islands of Philadelphia," which tells the story of a girl who learns about the Smith and Windmill Islands once located in the Delaware River and decides to look for them.
In addition, the first 20 guests entering Grand Central Art Center at the top of each hour will receive a free copy of David Greenberger's artist-in-residence project "It Happened to Me," with 60 songs developed through conversations with senior citizens of surrounding communities. A limited-edition LP is now available. 
Cal State Fullerton's Grand Central Art Center is located at 125 N. Broadway in Santa Ana. Additional information is available on the center's website.