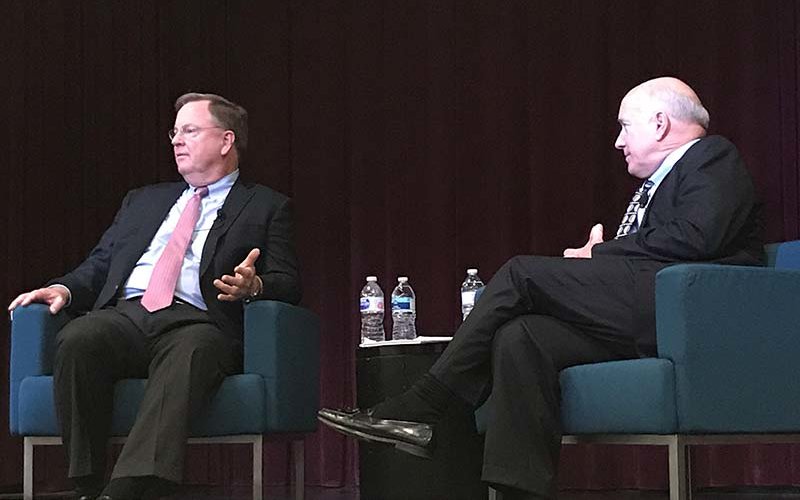 Amidst good-natured jokes and some reminiscing, longtime friends and Cal State Fullerton business alumni Michael R. Groff and Patrick Donahue shared their wisdom about leadership with students at the Feb. 6 Titan Future Leaders Series.
Donahue '78 (B.A. business administration-marketing), chairman and chief executive officer of Costa Mesa-based Donahue Schriber Realty Group, began by emphasizing that both he and Groff had started in the same place as those in the audience – as students at CSUF.
Groff '78 (B.A. business administration-management), retired president and chief executive officer of Toyota Financial Services, recounted that he grew up as the fifth of seven kids in a low-income family in North Hollywood. The fundamentals his parents taught him were essential for his future success: the importance of family, faith and friends; working hard; acting with integrity; and pursuing education.
A self-described "car person," Groff began his career at the financing arm of General Motors, GMAC, working as a collection agent. In 1983, he moved to a new startup called Toyota Financial Services. Today TFS is the largest auto finance company with managed assets that exceed $120 billion and more than 3,300 employees. Groff retired from TFS in 2018, after five years at the company's helm.
When asked what it takes to be CEO, Groff quickly replied, "being really good at your craft." He also believes in personal branding, encouraging students to be self-aware and authentic – knowing what they stand for, what they're good at and how they can differentiate themselves.
Donahue added (paraphrasing Albert Einstein), "Don't strive to be a success. Strive to be of value." Both men encouraged students to add value by maximizing opportunities and taking on tasks that no one wants to do.
Groff stressed that education is more than attending school; it's working with mentors and embracing new experiences. "Be bold," he advised. "Take risks and get out of your shell."
The Center for Scholars and Student Life and Leadership are hosting the Titan Future Leaders Series, with presenting sponsor Bank of America, and featuring influential Orange County leaders. The final program in this year's series is April 29 at 4 p.m. in Titan Theatre, with Lanän Clark, vice president, associate market manager, Merrill Lynch Wealth Management.