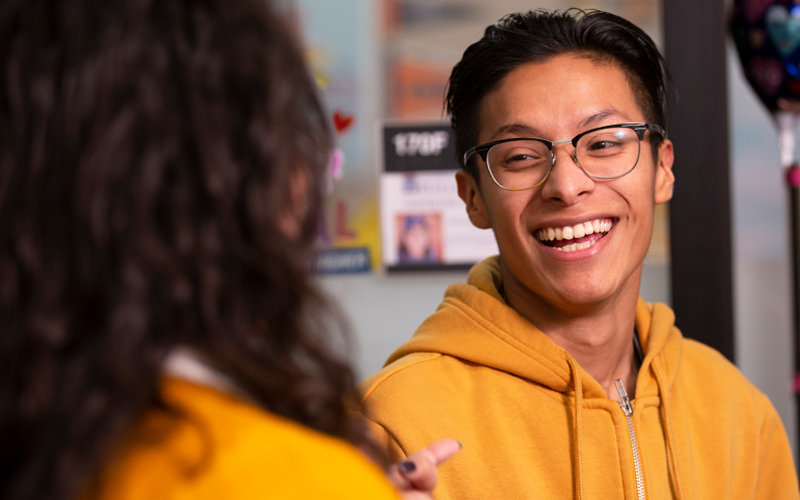 The first year of university life is full of surprises, both good and bad. Most students have a family support base, but what if you are a foster youth?
At Cal State Fullerton, former and current foster youth have a team of individuals who provide support and guidance.
Begun 20 years ago, the Guardian Scholars Program provides assistance through class-level seminars, educational advising, peer mentoring, career and graduate school advising, leadership training, life coaching, summer experiences, social events and field trips. The Foster Friendly Ally and mentor programs, which began about three years ago, offers added assistance.
"Ensuring that our foster youth students get the best possible college experience is a team effort," explains Yajayra Tovar, interim director of the Center for Scholars, where students can schedule advising, get training or just hang out with fellow Titans.
Foster Friendly Ally Program
"The Ally Program was created to develop a better understanding across campus of the experiences of being placed in foster care and the impact of that trauma has on development," explains Tovar. "Faculty and staff members become more understanding. This helps them work better with our students and create more inclusive environments."
Part of ally training is hearing from the Guardian Scholars themselves, but it can be hard for them to share their stories. "They often are fearful of disclosing due to the stigma that is placed on foster youth," says Tovar.
Juan Garcia, a sophomore public health major, agrees. He was among the students who attended an empowerment retreat and now shares his story during ally training. "It has made me more open, more accepting," Garcia says. "It helps me look back and recognize all the challenges I've overcome.
"I now realize we all have the potential to do good things in our lives, no matter what is our past," says Garcia.  
Academic adviser Darcy Anderson became an ally in 2017 "because I wanted to be another bridge in helping these students succeed. I believe that by serving in this way, I help heighten awareness of these students' struggles, to change the lens by which they are seen and how we help them succeed."
Mentor Program
Sharrica Miller, CSUF assistant professor of nursing and mentor to human services/criminal justice major Danae Rodriguez.
Similarly, the mentor program helps former foster youth feel more comfortable around adults, and creates strong and encouraging relationships, says Tovar. "Mentors help these students learn the value of social capital and guide them to becoming much more confident of themselves and connected to others."
"It's great to have someone who has been through the same things as you have," says Danae Rodriguez, a sophomore human services and criminal justice major who wants to become a lawyer and eventually a child advocate.
Last year, Rodriguez was matched with Sharrica Miller, assistant professor of nursing and a former foster youth herself.
"She was very open about her own experience," says Rodriguez, "but we talk about lots of things. She is part of my safety plan, someone to go to, a resource when I need someone to work with."
Miller spent about 12 years in foster care, so she knows what students have gone through and the steps they could take to create change.
"As an undergraduate, I was really lost," she explains. "I didn't know how to navigate through the college system.
"A program like Guardian Scholars would have saved a lot of mental and emotional issues for me, especially during my first two years."
She chose to teach at Cal State Fullerton because of the Guardian Scholar Program and the opportunity to become a mentor.
"Having a mentee has been beneficial to me as well," says Miller. "I know my role is to be supportive of Danae, but she's been a great support for me. We came to Cal State Fullerton the exact same time, so we navigated the campus together."
"I expect to go through my whole college experience with her," Rodriguez says of Miller. "I would like her to be there for my graduation."
More information regarding the Guardian Scholars Program may be found on the program website.