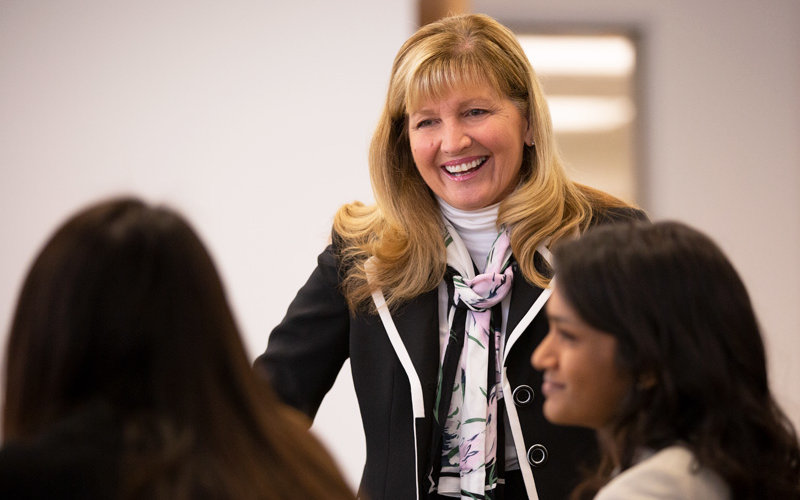 Live with integrity. Do the things you say you're going to do. Have a good attitude. Lead from where you stand.
This is some of the leadership advice that CSUF alumna Julie Miller-Phipps believes helped her rise in the leadership ranks of the Kaiser Permanente Foundation Health Plan and Hospitals (KFHP/H) during her more than three decades of service. Today, as president of the Southern California region, she oversees an organization serving more than 4.5 million members from Bakersfield to San Diego, with more than 73,000 employees, 7,400 physicians, 15 hospitals and 230 medical offices.
Miller-Phipps recently spoke with students in the Women's Leadership Program based in Mihaylo College of Business and Economics. The program was designed to explore the challenges of underrepresentation of women within top leadership positions and offer creative solutions and training for female students to prepare them for advancement into such positions.  
"I was a curious, active kid," Miller-Phipps said. "As a result, I was sort of accident-prone. I spent a lot of time in ERs. That sparked my interest in working in a hospital."
She initially started off in nursing school but soon discovered that her opinions were often dismissed.
"It was a different era," she explained. "Back then, many doctors didn't view nurses as colleagues and I didn't feel like being subservient to doctors. So I switched majors. That taught me that it's okay to change course if something isn't working. My personal experience also taught me the value of equity and inclusion in an organization's leadership. And, for the record, most doctors today treat nurses as partners."
Miller-Phipps earned a bachelor's degree in sociology in 1983. While doing so, she married, worked full-time and got pregnant. Her daughter was born four days after commencement. "I was so big," she laughed, "that they gave me two diplomas at the ceremony." She later earned a master's degree.
Sociology opened her eyes to group process — what is now often referred to as organizational effectiveness. She learned to run meetings, read a room, draw people out and encourage both positive and negative points of view. She also learned to "own the room" if she was chairing a meeting.
At Kaiser, she worked as a financial analyst. She admitted math wasn't her strong suit but looked upon it as a tremendous learning experience.
"Realize that leaders are watching you all the time," she said. "They see how you work. How you interact. This wasn't the ideal job for me but I knew I could learn a lot about budgeting, staffing, regulatory compliance. Your attitude goes a long way. Embrace challenges. If you do this often enough, you add value to your organization."
The keys to success include adopting a great attitude, being curious — it helps you learn — and figuring out where you can add value.
"When I say lead from where you stand, you don't have to be a manager or president," she explained. "Whatever position you're in, do the best you can and learn as much as you can. Watch other leaders. Look for mentors. Take charge of your career."
Also decide how you will deal with work/life balance. Miller-Phipps and her husband made a decision that if their careers ever interfered with their family life, their family had to come first.
"That doesn't mean that I never missed one of my daughter's events but I tried to get to the ones that were important," she said. "I tried to be present as much as possible."
She turned down a promotion when her daughter was a teenager because she was afraid it would affect her ability to spend more time with her.
"That didn't mean I didn't work hard," she cautioned. "I would work after my daughter was asleep. I tried to be efficient with my time and work."
Miller-Phipps continued to rise through the ranks, taking on additional responsibilities as senior vice president and executive director of KFHP/H in Orange County before being asked to serve as president of KFHP/H in Georgia.
"I had never even been to Atlanta before," she said. But two weeks later, she showed up there. Her goal was to turn around a hospital that lost $165 million the year before she arrived. A year later, she'd whittled down the losses to $65 million. She was continuing to work on turning the hospital around when Kaiser called to see if she would consider applying for the role of president of the Southern California region.
"I admit I was homesick for California," she said. "And by the time I got that call, I was 100 percent ready to take on the challenge."