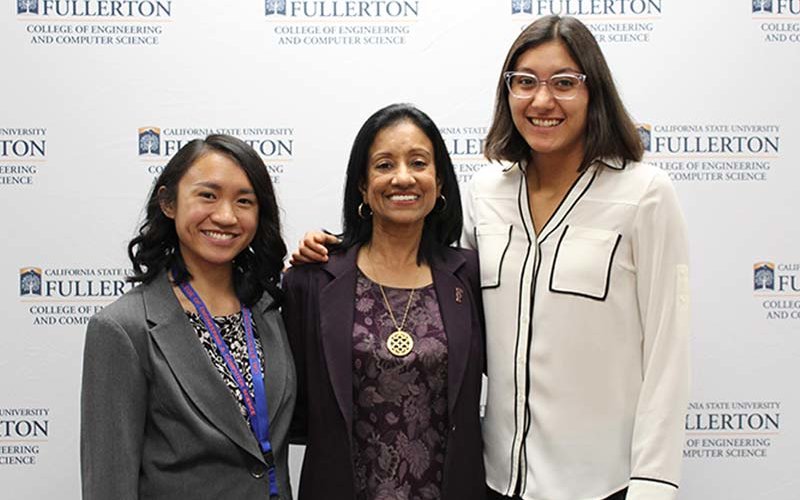 Civil engineering major Carina Coles used her video-making skills to share with others why Cal State Fullerton's College of Engineering and Computer Science and Society of Women Engineers (SWE) student chapter gives female students a place to learn, grow and prepare to become an engineer.
For her efforts to promote the university, college and STEM (science, technology, engineering and mathematics) fields, the student chapter won second place in the Collegiate Video Challenge, sponsored by the national SWE organization. The chapter placed ahead of universities such as MIT and Cornell and was awarded $300, which will go toward supporting their STEM outreach program for Orange County Girl Scouts.
Coles, who initiated the project and wrote and produced the video, wanted to tell her own story about how she become interested in engineering, as well as the support she receives from SWE. She had help from fellow SWE members, including Samantha Soto, chapter president and an electrical engineering major, who assisted with filming, editing and interviewing. Coles and fellow SWE member Fabiola Estrada, a double major in civil and mechanical engineering, also interviewed the college's dean, Susan Barua, about how the college supports females who want to join the engineering ranks.
Students from 11 universities across the country created three-minute videos about what makes their college and SWE chapter great, along with information about their school's engineering department. The contest was part of the organization's outreach plan to create a library of videos that SWENext students — K-12 girls interested in engineering careers — can use when they are researching colleges.
"I hope that K-12 students see that even if they are intimidated by the field, women can pursue careers in engineering," Coles said.