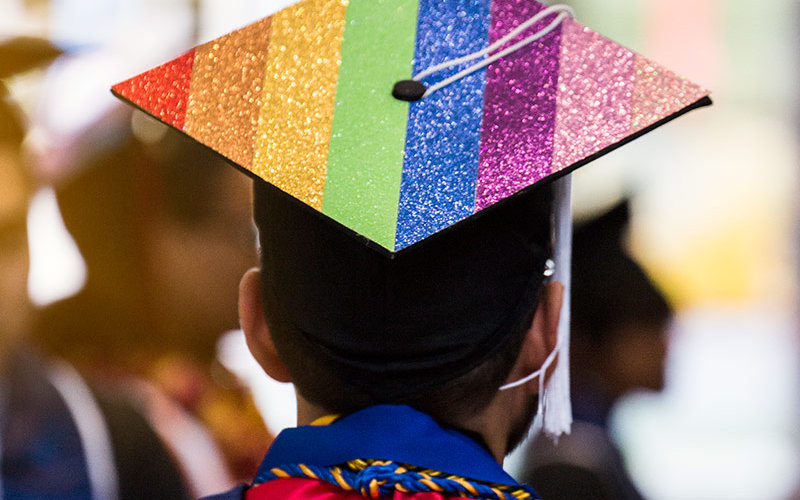 In 1971, amidst a swell in enrollment and faculty hires on campus, the Gay Student Union requested recognition as a student organization. The Staff Council of what was then known as California State College, Fullerton, unanimously denied its application, believing that "chartering of such an organization would be inimical to the best interests of the college and the community."
In the same meeting, they accepted "the wearing of hot pants apparel if worn in good taste."
Just a few years later — by the time Harvey Milk became city supervisor of San Francisco and the first openly gay man to be elected to political office in California — the first gay student union was part of the campus community. Indeed, the fall 1980 issue of CommUnity magazine, published by what was then the Department of Communications, included an article titled, "Homosexuals Living in an Intolerant Environment."
"There is a gay student union on campus … The charter was the result of hard work. Because the climate in the early '70s was extremely closed-minded, the group met off campus in private homes. There, they exchanged feelings about their sexuality and generally lent each other support in the face of a hostile world."
The Gay-Lesbian Student Education Union of the 1970s paved the way for the Gay-Straight Alliance and other organizations that help create communities for Titans. Yet it wasn't until 2012, less than a year after CSUF launched the queer studies minor within the Department of Women and Gender Studies, that the LGBT Queer Resource Center opened its doors.
Last year, the center relocated from the Titan Student Union to the first floor of the Pollak Library, joining the other Diversity Initiatives and Resource Centers within the Division of Student Affairs that foster a sense of belonging among various underrepresented groups on campus. With this larger, more visible venue, "we are now able to program more and create spaces for students to find communities in different ways," says Chris Datiles, the center's coordinator. "Before, we would only see about 20 to 25 unique users a month. Over the past few months, we've averaged about 150 per month."
As this community grows on campus, so does its allies. The center recently received its first major gift along with funding for The Ericksen LGBTQ Grant Program, which will provide financial assistance to eligible LGBTQ-identifying students who are affected by an unforeseen crisis or personal hardship. Also new is the Queer Peers Mentorship Program, where students help foster LGBTQ identity development and academic success among their peers.
These programs, along with the breadth of resources available on campus, continue to address the desire for connection and kinship so evident on the pages of CommUnity nearly 40 years ago: "The GLSEU hopes to move away from this feeling of isolationism by holding many educational programs to shatter fears and stereotypes. Perhaps the time is now… ."