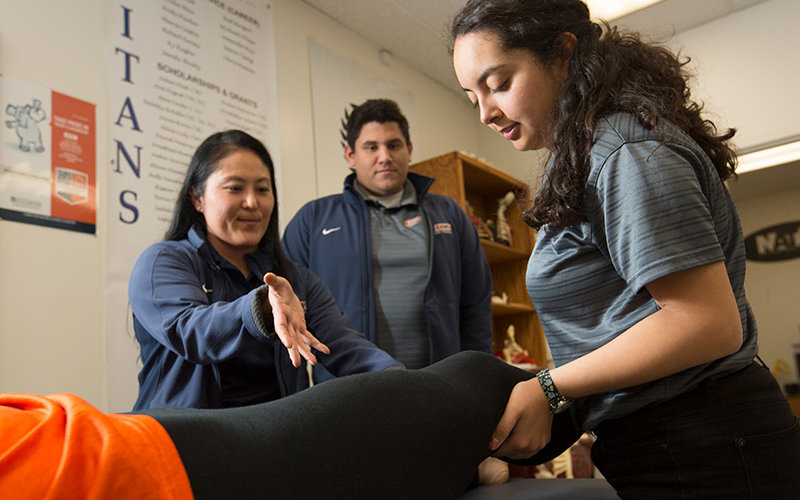 This summer, an inaugural class of students will attend a new master of science degree in athletic training at Cal State Fullerton — the first within the California State University system.
The reason? Changes in accreditation regulations and a focus on the specific skills and training for future professions, says Jason Bennett, director of the Athletic Training Program within the College of Health and Human Development.
"Athletic training is an allied health care profession where graduates take a national certification exam and can then be employed in a variety of settings. These settings can be sport-related — such as professional sports, college or high school athletics — or working in performing arts, military and physician offices focused on providing care across the lifespan for primarily orthopedic-related injuries," explains Bennett.
"While our program has always been very successful, our accreditation agency is requiring all programs to move to the graduate level." he notes. "By making the program a master's level, it allows us to meet these new accreditation requirements and content standards, and also allows us to redesign the program with new and different courses that will continue to make our graduates competitive in a changing healthcare environment."
Bennett says the master's program will be offered to small cohorts of students with intensive, immersive clinical hours every semester — tenets that made the undergraduate program successful with graduates passing the national certification exam at a 100 percent pass rate for first-time test takers over the last six years.
"We are excited to make sure that our last cohort of undergraduate students have the best experience possible, continue our tradition of excellence as we transition to a graduate program and be a leader within the CSU system," Bennett adds.
The graduate program begins with classes on clinical anatomy, evidence-based practice, acute care and an introduction to athletic training clinical experience. The fall and spring courses continue with additional coursework, as well as clinical experiences. Students who begin this summer can expect to complete 58 units over two years (summer, fall and spring) with a clinical rotation every semester and graduation in spring 2021.
More information regarding the program can be found on the Athletic Training Program website.