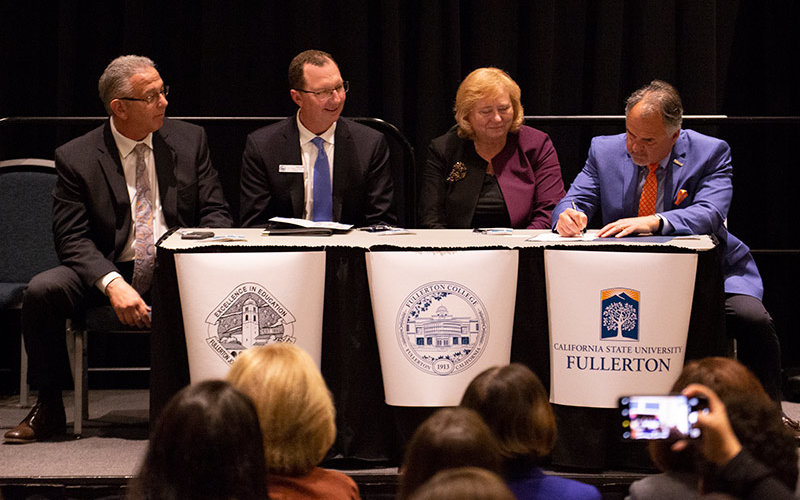 Cal State Fullerton, Fullerton College and Fullerton Joint Union High School District have established The Fullerton Education Partnership to create supportive pathways for local Fullerton students to achieve higher education, including a four-year degree at CSUF.
The agreement was formalized on campus at a lively Feb. 28 signing ceremony attended by administrators and faculty from the three partner organizations; the North Orange County Community College District; and roughly 100 student leaders from the district's seven high schools.
After welcoming remarks from V. Scott Scambry, superintendent of FJUHSD; Cheryl Marshall, Chancellor of NOCCCD; and Greg Schulz, president of Fullerton College, President Fram Virjee noted how the partnership is transformative and important for the community.
"We're so proud and honored to be partners with these great institutions," said Virjee. "Together — only together — we are the preemptive path toward upward mobility in Fullerton and in Orange County. We are the economic engine for Orange County and … we are the future of not only our community, but of our state and of our nation."
District students in the crowd were particularly enthusiastic when José Ramon Nunez, vice president of instruction at Fullerton College, stated that with this partnership, they will be able to attend Fullerton College tuition-free in their first year.
The Fullerton Educational Partnership aims to establish a pipeline of students, increase college-going and transfer rates, increase the number of CSUF-eligible students, expedite the time it takes to complete a degree, and serve first-generation and low-income students.
Partner organizations will engage both students and their parents with support and resources related to academic planning, college and career planning, one-on-one mentoring, and admissions and financial aid counseling beginning in fall 2019.