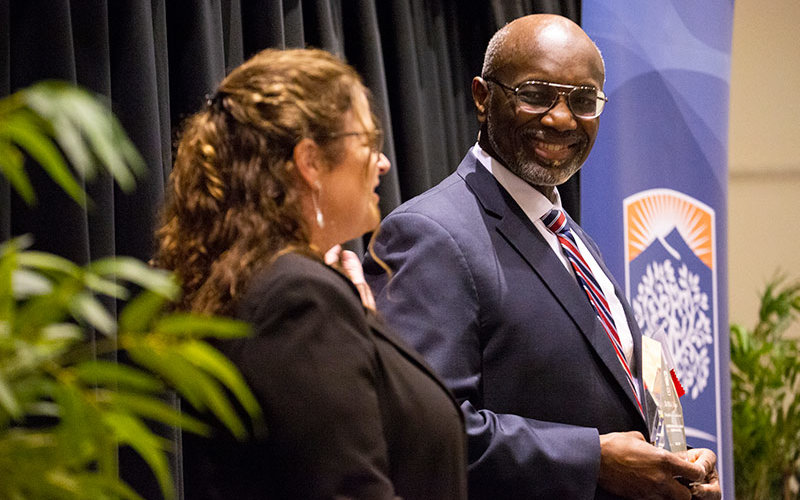 Teachers, instructors, Cal State Fullerton professors and a retired university president are among educators celebrated for making a difference in the lives of students at the College of Education's Honor an Educator event.
Lisa Kirtman, dean of the College of Education, along with Cal State Fullerton President Fram Virjee, and his wife, Julie, welcomed about 140 teachers and their guests, faculty and staff members, community and government leaders and alumni to the March 2 luncheon and ceremony.
"As a former elementary and middle school teacher, I know firsthand the rewards of teaching," Kirtman said. "I also know that much of the hard work that educators do is unrecognized. This is why this event is so important to me."
The Honor an Educator program was launched in 2006 to recognize the impact that educators have on students and to raise funds to support scholarships for College of Education students.
Virjee lauded the honored educators and noted what sets a great educator apart is his or her drive, commitment to the profession, and dedication and care to students: "A great educator is very often less about your teaching and much more about who you are as a teacher."
In addition to educators honored by individuals, the college recognized five 2019 "Distinguished Honorees," which included Willie J. Hagan, president emeritus of Cal State Dominguez Hills.
Hagan received the Distinguished Education Leadership Award for being a leader who upholds the ideas of educational excellence by promoting strong, positive changes in the community. A 40-year educator, Hagan joined CSUF in 1996 as vice president for administration, and during his tenure held other leadership roles, including serving as CSUF's interim president in 2012. Later that same year, he was appointed president at Cal State Dominguez Hills and retired at the end of the 2017-18 academic year.
"To be recognized as being a leader in education and making a difference in people's life — it doesn't get much better than that," Hagan said. "It's the capstone of my career."
Recipients of the Distinguished Alumni of the Year Award are science teacher Paola Yuribe Rosenberg '08, '17 (B.S. biological science-molecular biology and biotechnology, M.S. education-secondary education) and special education leader Scott Turner '07, '09, '18 (B.A. criminal justice, M.S. education-special education, Ed.D. educational leadership-pre K-12 leadership).
Yuribe Rosenberg is a nine-year educator who teaches honors biology at Kennedy High School in the Anaheim Union High School District. Turner is executive director of the East San Gabriel Valley Special Education Local Plan Area, a consortium of 10 unified school districts and four charter school local educational agencies that serves more than 12,500 students with disabilities.
"I owe a lot to the university," Turner said, adding that Janice Myck-Wayne, professor of special education, served as his doctoral dissertation chair and has been a close mentor since 2007 when he was in the credential program. "As a graduate, I find pride in working with, and interviewing other CSUF grads, who stand out among educators."
Orange Unified School District is the recipient of the Distinguished Education Excellence Award, in which CSUF's Summer College for Kids Camp provided literacy intervention to students. SchoolsFirst Federal Credit Union, which supports CSUF's Schoolsfirst Federal Credit Union Center for Creativity and Critical Thinking, received the Distinguished Education Partner Award.