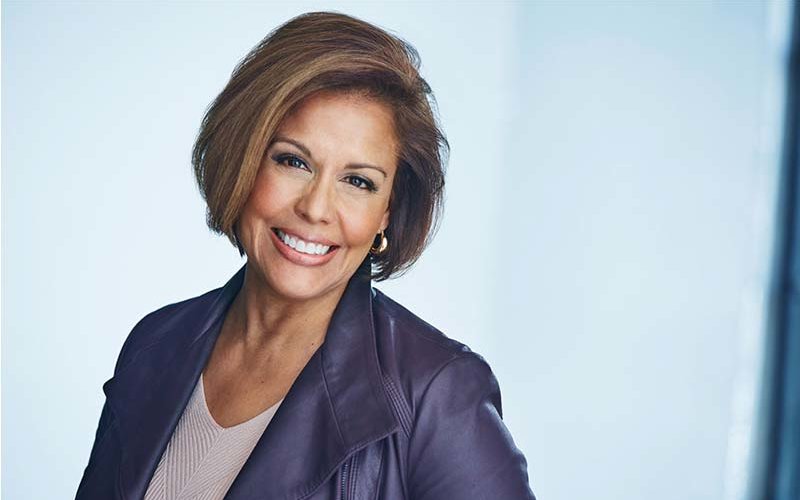 Alumna Michele Ruiz '88 (B.A. communications – radio/television/film) will be back in Titan territory March 19, participating in Cal State Fullerton's Center for Family Business Hall of Fame event. Ruiz will lead a fireside chat that evening with Andy Taylor, chairman of Enterprise Holdings.
Founder and CEO of Ruiz Strategies and BiasSync, Ruiz enjoyed a long, award-winning career in broadcast journalism at Channel One, KTLA and KNBC in Los Angeles before becoming a successful entrepreneur.
How did you choose Cal State Fullerton and a communications major?
I was at a friend's house in high school. Her mom was watching the news, and she said, "You'd be really good at that." It opened my eyes to the concept of communications and broadcasting.
Choosing CSUF was based on having a communications program and being affordable. I had a very volatile childhood, and by the time I graduated high school, I was on my own and put myself through school.
How did CSUF prepare you for success?
I remember professor Anthony Rimmer (emeritus professor of communications) — I really enjoyed his news-focused courses. It became clear that was I studying something I was well-suited for.
I also had two internships arranged through CSUF at KCAL and KTLA, and I was able to get mentors from the internships too. It was the combination of a good, solid academic foundation along with my ability to create meaningful mentorship relationships that made my CSUF experience very valuable.
What initiated your move from broadcasting to entrepreneurship and what have you learned from the shift?
I LOVED my news and broadcasting career. A few years before I left broadcasting, however, I lost my middle child, and it really changed my perspective on many things. What I thought I wanted — I no longer wanted.
I had worked really hard at the practice of broadcasting and storytelling, and some stories had changed laws — like the Safely Surrendered Baby Law. But broadcasting was taking me away from my family; I wasn't home when my kids were home.
Around that time, NBC had acquired Telemundo, and it sparked an idea for content geared to Latinos in the "how to" aspirational space.
I went to lunch with two angel investors who invested in media companies. Despite having no business experience or a plan, they liked my idea and were willing to give me $1 million in seed capital.
That's really what started me on my entrepreneurial journey. It was a shift in my mindset because of my [life] experience. For me, broadcasting was never about the fame and fortune; it was about the ability to use the medium to change laws and impact people in a positive way. That shift towards a business idea that could also have the same impact is not so unusual if you understand what was important to me at the time.
I'm now on my third company. I LOVE what I do — I'm living my purpose.
What advice do you have for current CSUF students?
Understand that if you study something, start working, and find it doesn't feed your passion, it's really OK to make a change. Sometimes it's pressure from well-meaning family members, but it's OK to make a decision that's better suited for you than to try to juggle the expectations of others.
A strong academic background is important, but equally important is the meaningful relationships you build. Invest in those. A really good book I recommend is "Go Giver" by Bob Burg. It's about giving people more value than what they expect, and you get more in return.