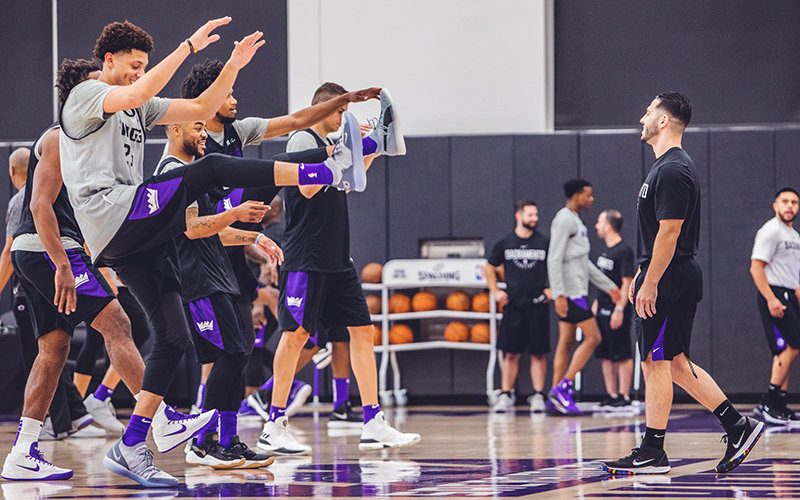 When it comes to strength and conditioning, Ramsey Nijem is all over it. The 2014 Cal State Fullerton alumnus (M.S. kinesiology) is currently head performance and strength coach for the Sacramento Kings basketball team.
"While my role has changed throughout my five years with the team — taking on aspects of nutrition and sport science (e.g. workload monitoring) — traditional strength and conditioning has remained my primary focus. Training is the intervention that allows us to drive the adaptations we aspire to," Nijem recently explained.
Nijem's interest in sport began as a player. "I aspired to be an NBA player," he noted. When that dream didn't pan out, "I decided to focus my attention on helping players.
Why Cal State Fullerton?
The Center for Sport Performance at Cal State Fullerton is one of the best programs in the country, with a track record of publishing applied research and a faculty that is second to none.
Do you have a favorite professor from Fullerton?
I cannot say that I had a favorite professor as they were all great. Specifically, Lee Brown, Jared Coburn, Andy Galpin, Scott Lynn, Guillermo Noffal, William Beam and Daniel Judelson were all influential during my time at CSUF.
Dr. Brown is the one who sold me on the program and it was the opportunity to work with him that ultimately led to my enrollment. In fact, Dr. Brown was on my dissertation committee for my doctorate.
My experience and the training I received at CSUF inspired me to continue my education to a research doctorate. (Nijem earned a doctorate of science in human and sport performance from Rocky Mountain University of Health Professions in 2018.)
What are your goals when working with the players?
The primary goal for each player is to physically prepare them for the demands of the NBA game so they can perform at a high level with minimal injury risk through the grueling 82-game season.
Achieving this can be complex and nuanced, especially within the constraints of the NBA where you play every other day, on average, with travel demands that challenge the recovery process. However, with buy-in from your athletes and application of the sciences that underpin our practices as strength and conditioning coaches, these goals can be achieved.
What do you think is most important when working with athletes?
While knowledge and experience (through both formal and informal education) are critical to coaching, in my opinion, the ability to communicate, build relationships and achieve buy-in from your athletes is most important. If you cannot get your athletes to train, then even the best program with the best coach won't achieve the desired results.
How did your education assist you in making the transition from serving at the college to the professional level?
Ultimately my education has given me a skill set to acquire, critically appraise, interpret and apply the best available evidence in the field of sport performance. The ability to do so provides a level of confidence that is often on display while coaching, which creates trust with the athletes I am fortunate to work with.
While it is tough to tease out how my education has assisted me in making the jump from college to the NBA, I think my education has given me a knowledge base and skill set that serves as the foundation for the value I bring to my work daily, providing me with the confidence to get the job done yet the vulnerability to constantly improve.