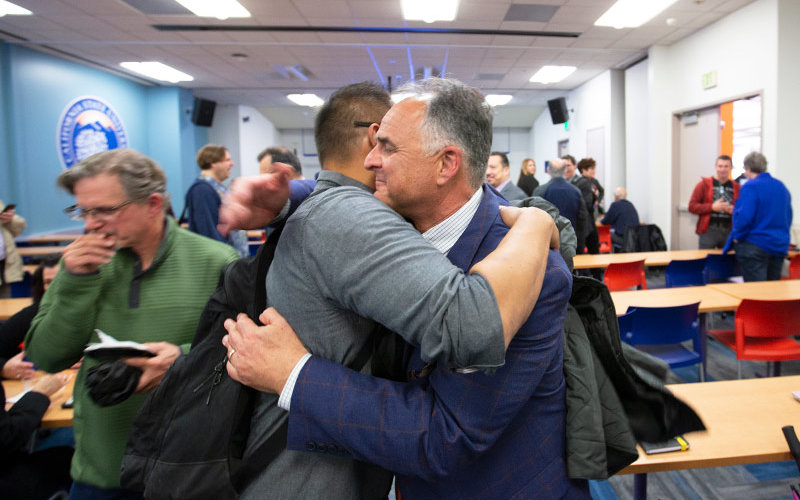 Cheers and a standing ovation greeted CSUF President Fram Virjee at the March 21 Academic Senate meeting, one day after the California State University announced his permanent appointment to head up the campus. 
Senators and other campus members greeted him warmly and responded to his heartfelt message about how important Cal State Fullerton, its mission, its faculty and staff, and most importantly, its students mean to him.
The president called his position "the best job in the world … no, not a job, a calling. … I may be being too dramatic, but I think my whole life has led to this."
Virjee reminded people of the university's inclusiveness and diversity and noted that like many CSUF students, he too was a first-generation American and a first-generation college student. 
He recounted his career, first as a lawyer and then as vice chancellor of human resources for the CSU. And while he was successful, he was still looking for something different …. 
"I knew what it was when I walked onto this campus:  It's the students. 
"This probably sounds silly but this job makes me happy; it fulfills me." 
Virjee says he knew he had to apply for the permanent position during last fall's Move-In Day. He had set aside 45 minutes to be there and stayed all day. 
He recalled one Hispanic family he met. The mother was sitting on a bench, crying, while her son stood beside her, reassuring her that it would be OK. The father was standing a few feet away. 
Virjee said he went up the mother and told her it would be OK. "I know that this is your treasure," he recounted. "And we will take care of him as if he were one of our own."
Virjee shared valued experiences with faculty, staff and especially, students — their concerns, their fears and their triumphs.
"This is why we're here," he said. "This is the future of Orange County, of Southern California, of the state. These students and their families are why we are here. 
"We're here for raising up families; we're here for creating an uplifted community; we're here for increasing access; for persistence of our students to graduate. 
"We're here for the creation of graduates who not only will get that first job but the second and the third. And not only will provide for themselves and their own families but will give back to their communities, will be civically engaged, will care about the future.
"The CSU is the glue that holds California together," said Virjee. "I learned that while at the Chancellor's Office. But Cal State Fullerton is the glue of Orange County. It is the only California State University in Orange County. This is our obligation."
His full March 21 presentation can be found here.