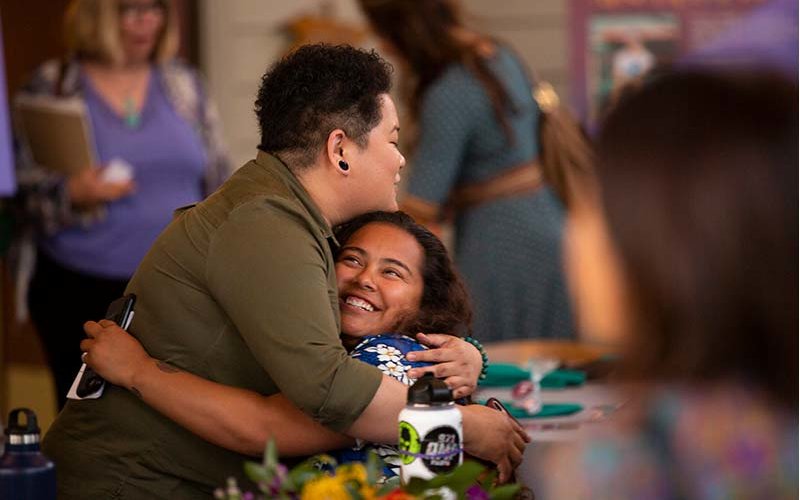 Because they are often referred to as a 'model minority,' many Asian Pacific Islander Desi Americans (APIDA) feel unnoticed or invisible, said Jacob Chacko, coordinator of the Asian Pacific American Resource Center.
"However, now is the time to share the narratives of our people and our role in America," he explained in opening remarks at Cal State Fullerton's APIDA Heritage Month President's Reception earlier this month.
President Fram Virjee welcomed the group to the evening event, noting that he understood that invisibility often makes it hard to find your place or your voice.
"Understand that we stand with you, embrace you and will help you move forward," he said. "All must feel welcome here. We have made progress, as a nation, but too many still feel left out … and we must expand our efforts so all students at Cal State Fullerton feel visible, safe and supported."
Michael Perez, professor of sociology and faculty athletics representative, served as keynote speaker at the reception. A native Pacific Islander and Chamoru/Chamorro with family roots in Guam, Perez highlighted several themes from the languages of four Pacific Islander groups: the Chamorus/Chamorros of Guam, Kanaka Maoli of Hawaii, Samoans of Samoa and the Kirabati.
"Imagine Oceania as a large water continent, and the revitalization of canoes in the islands. Navigation and seafaring are central to various native Pacific Islanders, literally and symbolically, as a metaphor for navigation of life for them."
Before venturing into the ocean, Pacific navigators may use star compasses and a sail plan. "Navigation marks our relationship to the ocean and the movement of our people," he said. Pacific Islander navigation systems involve triangulation of land, stars and the canoe. The canoe is positioned as stationary, while the land and stars "move."
"In some ways, this is how we navigate in higher education," he said. "Think about the ways in which indigenous beliefs can be incorporated into higher education, such as using the notion of a sail plan for curriculum development, diversity programming and strategic planning."
Staying connected to the culture of 'home,' is also important. Perez tries to visit Guam at least once a year and takes one of his four daughters on each trip so they develop an appreciation for their heritage and culture.
"It's a historical pilgrimage," he said. "We take spiritual hikes around ancient Chamorro sites … (where) ancient artifacts are still intact. This is where the stories are."
He also referenced the late Bernadita Dungka, a pioneer of different movements for Chamorro revitalization, co-author of the Chamorro-English Dictionary and author of the Inifresi — known as the Chamorro/Guam pledge: "From the innermost recesses of my mind, from deep within my heart, and with all my might, I offer: To protect and defend the beliefs, the culture, the language, the air, the water and the land of the Chamorro."
The celebratory event also featured poetry readings by students Louise (Isa) Fonua and Aalayah Thompson.