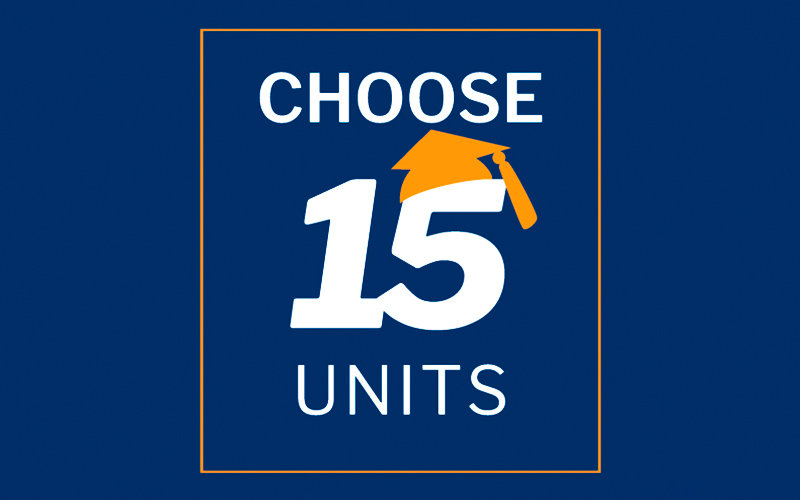 Graduating with a university degree often sets individuals (and generations beyond) on a new path to success. Graduating in four years, however, is difficult for some students despite the benefits of graduating "on time."
With student success as the guiding principle, Cal State Fullerton recently launched the "Completion Campaign," a multipronged approach to supporting students as they work toward graduation. Built through collaboration across all divisions, the effort includes a new "Choose 15 Units" drive.
The goal is to encourage incoming freshmen and transfer students to choose 15 units a semester to be on track for graduation in four years and two years, respectively, to motivate current students to consider increasing their units to graduate sooner.
Why encourage students to Choose 15 units a semester?
"We hope it inspires current students to examine their unit load and, if they hope to graduate in four years, seriously consider taking 15 units," said Clint-Michael Reneau, associate vice president of student retention. "For those who can't take 15 units, we ask, 'How can we get you closer to graduation day?' We want to communicate that we are here to help them navigate their college career so they can complete their degree on the most efficient path."
Campus research reveals that incoming freshmen who attempt and complete 30 units a year are twice as likely to graduate in four years compared to those who don't complete 30 units a year.
Through the Completion Campaign, CSUF seeks to lead the way in graduating students with less student debt and providing them with the opportunity to promptly begin building their careers.
Enrolling in 15 units each semester also increases the likelihood that students graduate alongside friends and classmates, and enjoy a more balanced and manageable academic schedule.
"Some students may not know that their financial aid pays for 15 units, regardless if they take 15 units or not," added Pamella Oliver, provost and vice president for academic affairs. "Students should take full advantage of their investment. We do not want students unnecessarily delaying their careers or graduate school.
"As a university, we want to focus on student retention and removing barriers, such as taking classes that will not count towards a student's degree," Oliver added. "Helping students find the right 15 units toward their degree is essential, and that is why we emphasize that there is help available through advising."
Of course, completing 15 units per semester may not be for every student. Regardless of the number of classes students take each year, the quality of the degree will remain the same. However, meeting with an academic adviser as soon as possible allows students to more efficiently map out plans to accomplish their academic goals.