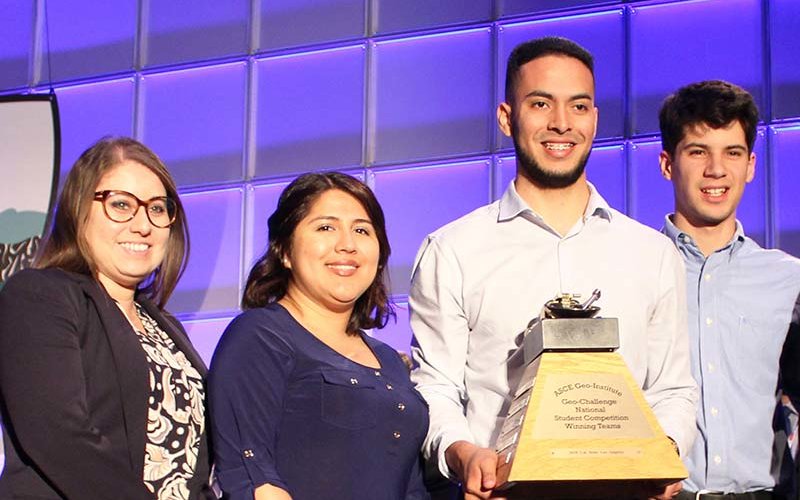 Designing and building a miniature vertical retaining wall in an 18-inch-wide sandbox, holding between 400 to 500 pounds of sand, and using only kraft paper for reinforcement is not an easy civil engineering feat.
But a team of Cal State Fullerton student civil engineers put their geotechnical engineering know-how to the test and built the best retaining wall design in the nation to win the 2019 "GeoWall" competition. The victory at the American Society of Civil Engineers' Geo-Congress conference in Philadelphia was the fourth time a CSUF team has won the national title.
"I'm proud of the amount of dedication and effort the team put into this competition," said team captain Jesse Solis. "Although it was tough, I'm really happy with how this team was able to come together to win."
The objective of the GeoWall competition is to design and build a model of a mechanically stabilized earth retaining wall, then test the design to support soil load scenarios. From several dozen universities that submitted a design report entry, a total of 16 teams from across the country were invited to compete March 25, including UCLA, Hohai University in China and three other California State University campuses.
The CSUF team was among top-ranked teams for their design report in the preliminary phase of the competition and received a $2,400 travel grant to the national competition. The other student team members are Vanessa Antunez, Angel Martinez and Cindy Deligiannis, with Pankaj Bhattarai, lecturer in civil and environmental engineering, their faculty adviser.
Team members relayed how preparing for the competition gave them real workplace lessons, such as teamwork, as well as overcoming challenges and setbacks.
"We learned how to work together as a team, accept each other's advice and criticism on our roles in the building of the wall, and how to prioritize events going on in our lives, including this project, school and family," Antunez said.
Bhattarai, who mentored the students for the first time and motivated them during their practice sessions, noted that the future civil engineers stood out from the competition.
"Our team was well prepared, confident and members knew their roles. Students had good knowledge and understanding of geotechnical engineering concepts, as well as the GeoWall competition," said Bhattarai, who also reviewed the team's design report before it was submitted.
A CSUF student team won the national award in 2014, 2015 and 2017, and placed second in in 2018. For the past seven years, a CSUF team has clinched the American Society of Civil Engineers' Pacific Southwest region championship.
"Bringing the trophy home for the fourth time sets a CSUF record," said Binod Tiwari, professor of civil and environmental engineering, who accompanied the students to Philadelphia and was the faculty adviser for the previous winning teams.
"It's a huge achievement for CSUF and the students. The award, announced in front of 1,400 attendees at the Geo-Congress, shows the quality of geotechnical engineering education at CSUF."