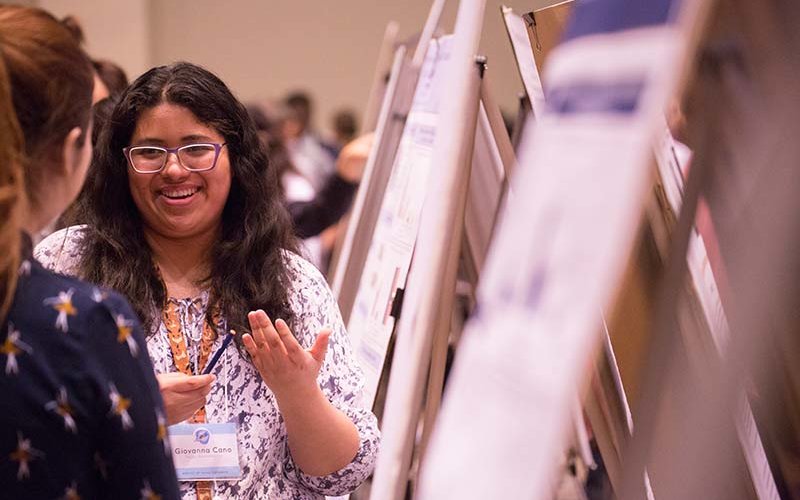 The Natural Sciences and Mathematics Inter-Club Council is presenting NSM Week April 16-18, with events to help students make connections, showcase accomplishments and present research projects.
The week's activities includes the 16th annual Research Symposium Thursday, April 18, with students in the College of Natural Sciences and Mathematics (NSM), as well as other colleges, presenting their research projects from across disciplines. The 2-4 p.m. event will be held in the McCarty Grand Foyer in Clayes Performing Arts Center.
"NSM Week provides opportunities for students to connect. Making connections is important in any field, but STEM (science, technology, engineering and mathematics) students seldom get the opportunity since they spend most of their days both in class and in the lab," said Britt Rhodimer, a biological science major and chair of the Natural Sciences and Mathematics Inter-Club Council.
The research symposium offers students the chance to gain experience for their future careers and advanced academic goals, such as presentation and communication skills, added Rhodimer, who will present her research on the evolution and diversity of western strawberry cockles, a type of clams. Her study focuses on comparing the genetic relationship between cockles found on the coasts of Southern California and Panama.
"The symposium serves as a great starting point for students to share what they've learned with their peers and the public. The value of this experience is priceless," Rhodimer said.
Events are open to all CSUF students and include:
STEM Social, Tuesday, April 16, 5:30-7:30 p.m., Titan Student Union Underground  — Event gives students the opportunity to meet, network and socialize, and features bowling, billiards and free food. Student organizations from both NSM and the College of Engineering and Computer Science participate.
NSM Comic-Con Carnival, Wednesday, April 17, 12:30-2:30 p.m, Planet Walk (between Dan Black Hall and McCarthy Hall) — Event features 18 NSM student clubs and organizations, free food, games and other activities. Students are encouraged to dress in costume.
 
An invitation-only student awards and scholarship reception, hosted by the college, kicks off the week on Monday, April 15. Research abstracts presented at the symposium will be available on the event's website by April 9.
NSM Week is co-sponsored by Project RAISE and Associated Students Inc. The Natural Sciences and Mathematics Inter-Club Council is student-led with representatives from the college's clubs. The goal of the council is to help students make connections, form collaborations and build community within the college and across campus. 
For more about NSM Week, contact Colleen McDonough, assistant dean for student affairs, College of Natural Sciences and Mathematics, or call 657-278-4158.