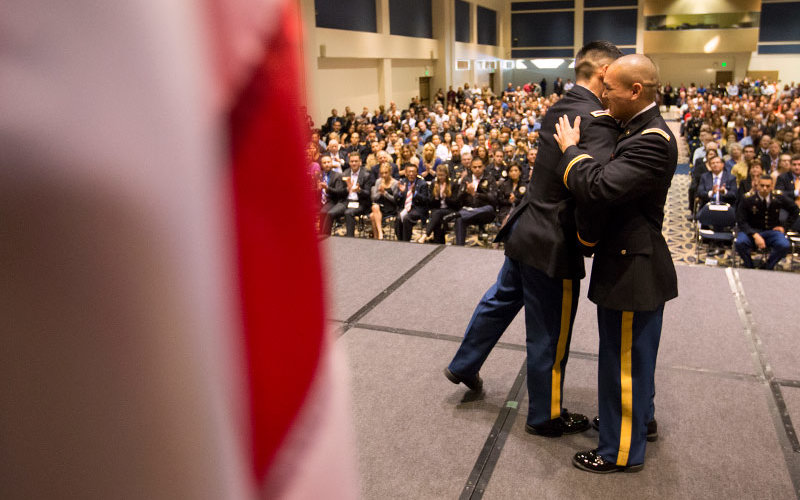 Eighteen U.S. Army cadets in Cal State Fullerton's Reserve Officer Training Corps will take the oath of office and be commissioned for duty as second lieutenants during a special ceremony at 9 a.m. Saturday, May 11.
Once commissioned, most of the soon-to-be new officers will undergo up to a year of officer training, then report to their respective duty stations in the United States or abroad.
Keynoting the event will be Brig. Gen. Denton Knapp, commander of the Army component of the California State Military Reserve headquartered at the Joint Forces Training Base in Los Alamitos. Knapp also serves as a board member of the U.S. Veterans Business Alliance.
The ceremony will be held in the Grand Ballroom of the Fullerton Marriott, 2701 Nutwood Ave., Fullerton, 92831. Congressional and state Senate certificates of commendation will be awarded to each cadet as they are honored before friends and family.
The ROTC program welcomes cadets from other universities and colleges, as well as CSUF. The cadets, who are completing bachelor degrees, are listed alphabetically by educational institutions.
Cal State Fullerton:
Logan Abraham, business administration-finance
Peter C. Battung, mechanical engineering
Mayra Bendavid, sociology 
Christopher Bos, computer science
Christopher Flores, kinesiology
Steve Kwak, sociology
Darren Meier, criminal justice
Huey Nguyen, kinesiology
Brandon Pacini, political science
Caleb Perez, public administration
Cesareo Reyes, criminal justice
Stacy Rosete, biological science-molecular biology and biotechnology
Scott Sanchez, health science
Tatiana Sevilla, sociology
Riad Soliven, computer engineering
Jake Winders, criminal justice
Biola University:
Jose Hernandez, biblical/theology
Vanguard University:
Andrew Wise, mathematics
For more information, contact the Department of Military Science at 657-278-3007.