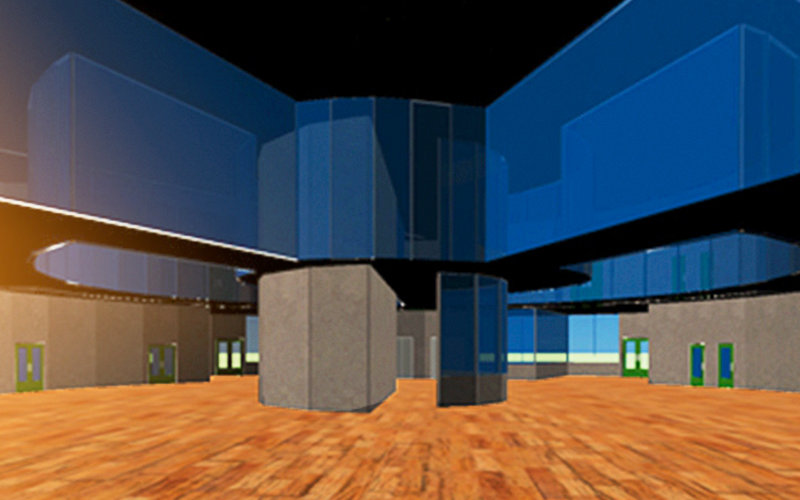 Imagine working in an office building that is functional and uses renewable energy solutions, and eco-friendly principles and technology. That's what a team of Cal State Fullerton engineering students did.
The interdisciplinary team envisioned a creative and innovative building design that has earned the students a spot to compete in the April 12-14 U.S. Department of Energy Solar Decathlon Design Challenge. The competition at the National Renewable Energy Laboratory in Golden, Colorado, features 47 teams, representing 38 collegiate institutions from across the country and world, with Cal State Fullerton the only California university selected to compete.
The qualifying teams will present their designs. which focus on blending engineering and architectural concepts with market potential, building efficiency and smart energy production, to a panel of industry jurors.
"Sustainability and efficiency are increasingly the focus of new development and remodeling, and there is always new technology, guidelines and design principles to incorporate," said Darren Banks, assistant professor of mechanical engineering and the team's faculty adviser. "Buildings are much more than spaces to live and work. This project lets students dive into a realistic modern design process."
This is the first time students from the College of Engineering and Computer Science have entered the competition. Members of the team are mechanical engineering majors Khanh Duong, Scott Daniel, Brandon Alam, David Demesa-Alvarado and Allen Gabat; electrical engineering majors Victor Cervantes and Emmanuel Villegas; and civil engineering majors Jayraj Vadodariya and Christopher Wongsavanh.
The research-intensive project required that students develop a functional design and write an in-depth report detailing how the design addresses each of the challenge categories, said Duong, who co-leads the project with Daniels.
Team members focused on areas relevant to their discipline. For example, electrical engineering students dealt with solar power systems, mechanical engineering students with automated, sensor-controlled systems for heating, air conditioning and lighting, and civil engineering students conceived the circular four-story, 70,650-square-foot structure with a panoramic patio on the top floor.
Students gained experience of working across various digital platforms to design the building and also reached out to industry professionals to get suggestions of existing technologies to create a sustainable structure — inside and out.
The team's goal for the project was to create a net-zero energy office building — meaning that the building produces enough renewable energy to meet its own annual energy consumption requirements, Duong said.
The team chose to design an office complex for a high desert community that has hot temperatures in the summer. The students sought environmentally friendly ways to cut energy costs, while keeping the building cool. They incorporated ideas to reduce this heat load, such as using reflective windows, thicker walls, geothermal cooling, and machinery and lighting that do not produce as much heat. An underground geothermal heat pump reduces reliance on traditional air conditioning, providing a steady source of cool air available year-round, Banks explained.
Solar energy supports all the buildings electrical systems, and solar panels also are used to cover the parking lot to maximize electrical production and to also keep cars shaded and cool during the day.
The experience, Duong said, gives students insight into an emerging industry to power buildings with renewable energy solutions and also helps to develop career-ready professionals for the workforce.
"This project opened my eyes to other career possibilities. In class, we learn a lot of theoretical concepts. For the Solar Decathlon, you get to apply everything you learned to create a real-world, sustainable design."