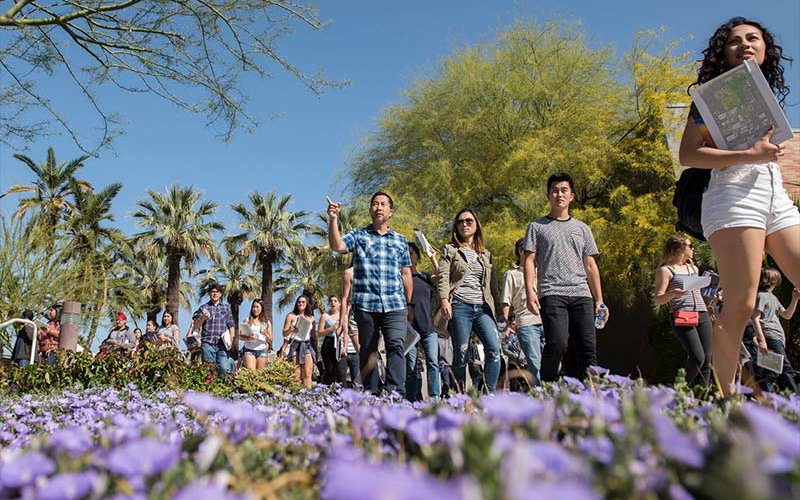 Admitted students and their families are invited to attend Welcome to California State University, Fullerton Day Saturday, April 13, 9 a.m.-1 p.m. to learn more about all aspects of the Titan experience and help them make an informed decision in selecting a college.
Attendees will have the opportunity to participate in workshops on an array of topics, including housing, navigating the first year at CSUF, financial aid and how parents can support their Titan. The latter two workshops will be available in both English and Spanish.
The day will include campus tours and the Titan Experience Fair where students can explore campus activities. Each of CSUF's eight colleges will be represented at Academic College Up Close; students can talk with faculty and current students from each college and learn about specific majors.
The College of the Arts, Titan Student Union, Student Recreation Center, Pollak Library, and Housing and Residential Engagement will host open houses continuously throughout the day for the expected crowd of 10,000.
"Welcome to CSUF Day is an incredible time of year for us," explains Sharnette Underdue, director of outreach, recruitment and orientation. "This event allows current faculty, staff and students to express our excitement for CSUF and invite newly admitted Titans to share in what makes CSUF so special.
"The welcoming atmosphere and friendly volunteers are a few of the most-mentioned feedback we receive from our participants. The goal is to showcase all the options available at CSUF and help newly admitted students to find their own space here. Students and their families walk away feeling lifted, and for a university where we pride ourselves on reaching higher, that's amazing!"  
Students admitted for fall 2019 must accept the university's offer of admission by May 1. Those who wish to accept the day of the event may do so at the Titan Admission Acceptance Center on the first floor of the Pollak Library. Staff from Admissions, Financial Aid, and Orientation will be on hand 10 a.m.-2 p.m. to walk students and their families through the process.
To register or get more details, visit the Welcome to CSUF Day website.