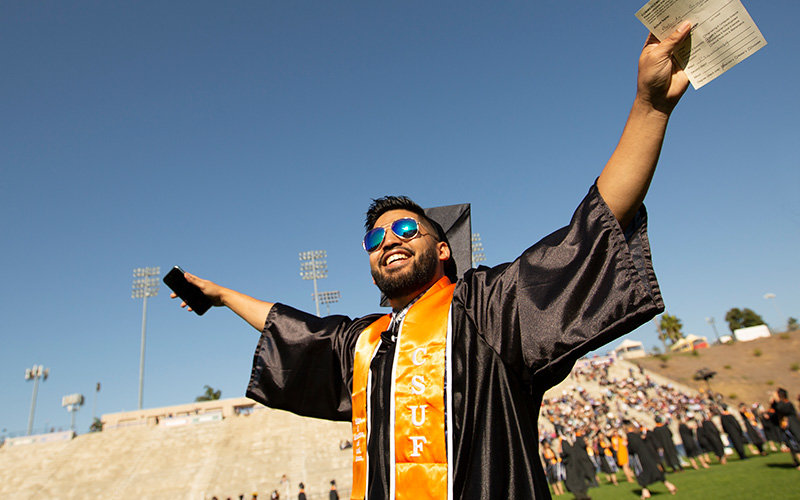 Several thousand family members, friends, faculty and staff gathered at multiple locations across Cal State Fullerton on Friday night to celebrate the start of three days of commencement ceremonies.  
As the strains of "Pomp and Circumstance" filled the air, families held up signs, balloons and bouquets of flowers, honoring the more than 12,600 graduates and candidates for graduation who were, after years of study and commitment, about to walk across the stage, marking their graduation from Cal State Fullerton.  
College of Humanities and Social Sciences — Psychology
As President Fram Virjee congratulated students at the Department of Psychology graduation ceremony, he also requested that they "thank the faculty, staff, friends and family whose teaching, love, support and mentorship propelled you to this day."
"Today, you graduate from a university of significance — significance in our community, our state and our nation," Virjee said. "That means you are all graduates of significance. You are well-prepared, culturally competent and uniquely positioned to serve your communities, excel in further education and lead the workforce."
Erick Aguinaldo, recipient of the outstanding undergraduate student award, then addressed the crowd. "We have received an invaluable education and grown as scholars and individuals. But it's not just about us. It's about the faculty, family, friends who have helped us … My two younger sisters have been my inspiration. I want to help ensure that the world they go into is better than what I grew up in. This day, as we reflect on our accomplishments and go off in different directions, I'd like to ask all of you to stand and complete this sentence: Correlation does not imply…."
"Causation!" came the response.
"Good, Aguinaldo replied. "I wasn't sure if that was going to work. But I encourage you to stay skeptical, remain compassionate, and make sure that what you're reaching for is something you really want."
College of Humanities and Social Sciences — Comparative Literature, English, Linguistics, Modern Languages and Literatures, Latin American Studies, TESOL
Sheryl Fontaine, dean of the College of Humanities and Social Sciences, welcomed the crowd to the ceremony for comparative literature, English, linguistics, modern languages and literature, Latin American studies and TESOL at the Titan Gym.
"As we observe this new beginning, this commencement, I invite you and your loved ones to recognize your personal dedication and sacrifice. And to reaffirm what your studies in the humanities and social sciences have meant to you, and what your experiences at Cal State Fullerton can mean to your future."
Eulices Ponce Martinez, graduating with a bachelor's degree in English, shared a short poem he authored called, "The Day's Last Look," while Jane Lee, also graduating with a B.A. in English, referenced her parents in speaking about the uncertainty graduation brings, and how positivity and perseverance can overcome it.
"I can't help but think about the uncertainty my parents must have felt coming into a new country," she said. "And the uncertainty when their home and business burned down in the L.A. riots. But they kept fighting. I hope to use their strength and positive influence to positively influence those around me. If you positively nurture and influence those around you, there's no way you'll leave a bad mark on our communities."
Other student speakers included Kiano Emami, graduating with a bachelor's degree in Latin American Studies and Modern Languages; and Alma Velazquez, graduating with a master's in Spanish.
Velazquez shared her fears and doubts about pursuing a master's degree, and how her parents reaffirmed her ability to succeed. The crowd cheered as related her first-generation struggles; she encouraged them to continue on, remembering the proverb, "They tried to bury us. They didn't know we were seeds."
College of Health and Human Development—Child and Adolescent Development, Human Services
Nearly 900 graduates and candidates for graduation in the departments of Child and Adolescent Development and Human Services celebrated the milestone of graduation surrounded by their peers, their teachers, family and friends.
"You know first-hand that earning a college degree is hard work," said Laurie Roades in welcoming the assembled audience. "You are smart, resilient and capable.
"Thank you — you have chosen a field and a profession that will make a difference every day. Thank you for preparing to be leaders in your field."
"Success itself doesn't determine happiness," said Grace Sevilla to her fellow human services students. "It is happiness in life that ultimately determines success in life."
College of Education
College of Education Dean Lisa Kirtman welcomed the Class of 2019 graduates — students earning master's degrees and doctorates in education (Ed.D.), with 44 doctoral students hooded by their dissertation chair — along with their families and friends. Kirtman acknowledged students' families who contributed to their college success and education faculty members who instructed, guided and mentored them so they could achieve their academic goals. One of those faculty members is Maria Grant, professor of secondary education, the college's 2019 Distinguished Faculty Marshal.
Grant delivered the commencement address and encouraged students to "never stop revisiting your enthusiasm for becoming an educator and your knowledge of how to make learning a positive, growing experience for each of your students. Continually revisit why you chose this field." 
In her address, graduate Nicole Moshiri, an elementary school assistant principal who is earning an Ed.D.-pre-k-12 educational leadership specialization, challenged her fellow educators to make education transformative for all students: "As educational leaders, we must rise to a higher level than that which reminds us of our differences, and embrace that which connects us. I encourage you to walk toward your purpose and make a difference."
For More Information
Commencement ceremonies will continue throughout the weekend. For more information, visit http://www.fullerton.edu/commencement/