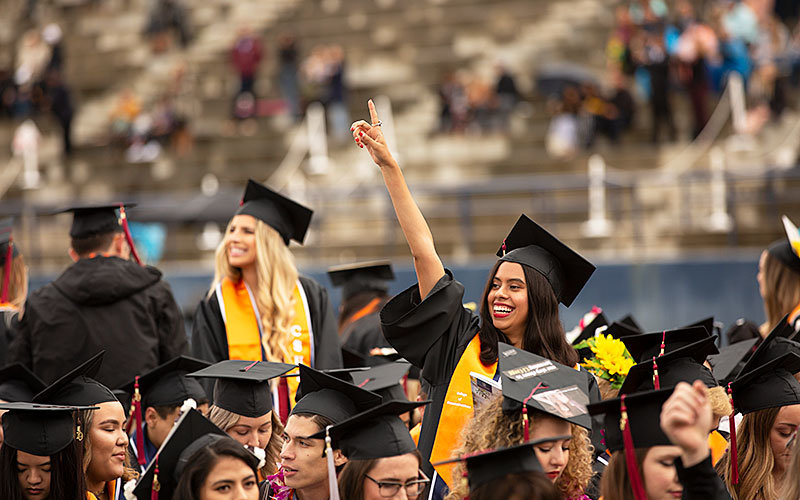 A sea of caps and gowns washed over Cal State Fullerton on the final day of Commencement weekend as thousands of Titans celebrated their educational milestones. Braving morning rain, spirits were high as graduates and candidates for graduation lined up to walk on stage in college ceremonies throughout campus.
College of Engineering and Computer Science
In keeping with the College of Engineering and Computer Science commencement tradition, Distinguished Faculty Marshal Kiran George, professor of computer engineering, and bagpiper Larry Grossman playing "Pomp and Circumstance," led the more than 1,000 graduating students into the ceremony, with President Fram Virjee, Dean Susan Barua and faculty following the procession.
Barua told the Class of 2019 that it's an exciting time to enter the engineering and computer profession since today's world is interconnected through the internet of "everything" and data is being "collected from everywhere." She also reminded grads that the college has prepared them for their future careers.
"The rigorous classes that you took towards your degree requirements, the design projects that required you to tackle multidisciplinary challenges in teams, the numerous reports that you wrote, the project presentations you gave — all these have enabled you to get to the finish line today."
Virjee addressed the graduates, noting their hard work and academic rigor of their majors. "How many of you got an 'A' while you were here? Raise your hand." As many students raised their hands high, the crowd cheered. "From that response, I can legitimately say that our graduating Titans have demonstrated their significance as scholars, earning the highest grades in one of the most rigorous universities in the nation."
Top-of-the-class seniors Galen Jiang, earning a bachelor's degree in mechanical engineering, and David Nguyen, earning a bachelor's degree in electrical engineering, also delivered remarks.
Jiang, graduating summa cum laude, shared the "three C's" to help grads move forward: Choice, change and challenge. "If we can make positive choices, embrace change and face challenges, then the possibilities are endless."
Nguyen, a civil engineering major graduating cum laude, reminded fellow graduates that a college degree isn't the end: "It's a means to the end. It's a pathway to the next chapter to teach us and allow us to grow."
College of Communications — Communications  
The rain did not dampen the enthusiasm of the graduates and their families and friends gathered at Titan Stadium for the College of Communications' commencement exercises.
The opening procession featured leading bachelor's candidates Sivan Palmon, Diana Rodriguez, Brandy Flores, Caroline Salinas and Samantha Cabral bearing flags for the department's five concentrations: advertising, entertainment and tourism communications, journalism, photocommunications and public relations, respectively.
Student speaker Chelsea Ann Montefalcon, graduating with a bachelor's in communications-advertising and the highest grade point average among all communications graduates, related how she battled self-doubt and fear and has come to realize that "the only thing worse than fear is regret."
"Out of fear comes greatness," she shared. "Learn to get comfortable with being outside of your comfort zone and persevere even when things get bleak because you'll never know what will happen."
News anchor Kilmeny Duchardt '08 (B.A. communications-journalism) of TRT World, a Turkish international news channel broadcast in English, congratulated the graduates, saying, "You have all accomplished something only a third of Americans have done — graduate from college. But your time here at CSUF is just one chapter in your story."
Acknowledging life's obstacles, she advised graduates to be persistent, take risks, help others and control the narrative of their own story. She ended with this challenge: "To you my fellow Titans, I say — go write your story!"
Andi Stein, 2019 Distinguished Faculty Member and professor of communications, thanked the graduates for making her years at CSUF "a great adventure" and encouraged them. "Go forth into the world. Take those risks, pursue those dreams and make that splash. And by all means, have fun!"
College of Health and Human Development  — Social Work, Counseling
Leah Brew, chair of the Department of Counseling, and David Chenot, chair of the Department of Social Work, welcomed cheering students — soon to be alumni — to Titan Gym. In introducing Berenecea J. Eanes, Chenot mentioned her multiple awards  — "but most importantly, she's a social worker," he said of the vice president for student affairs.
"You have committed yourself to a life of service and that takes courage — real courage," said Eanes, who holds a master's degree and a doctorate in social work. "We're so grateful you decided to invest in yourself here at Cal State Fullerton. That you understand that education transforms lives. You didn't come here to waste time. You came here to become leaders of your community. To become people invested in helping other people. Please don't ever forget how wonderful that is."
Student Alexandra Briante spoke of challenges faced during an internship opportunity, and lessons in empathy when walking in other people's shoes and understanding the barriers they face every day. 
"I am grateful for having studied in a program that continued to emphasize this notion throughout my entire experience," said Briante, who will graduate with a master's degree in social work.
College of Communications — Cinema and Television Arts, Screenwriting
As graduates, along with their families and friends, gathered in the Titan Gym for one of the final commencement ceremonies of 2019, it seemed only appropriate that President Fram Virjee make reference to one of the most popular television shows — "Game of Thrones."
"Not even the series finale of 'Game of Thrones' could keep me from celebrating your achievements tonight," he said to hoots and cheers from the audience. "But I know, in my heart of hearts, that in all likelihood, my next favorite show … or the nation's favorite movie …or the world's viral video is germinating right now in the brains of the graduates we are here to honor."
He praised the department for the hands-on, immersive experiences that connect students to industry leaders in Hollywood and beyond, and then addressed the graduates once more: "Tell that Hollywood Reporter interviewer about your alma mater."
Student speaker Sydney Welsh transferred to CSUF two years ago from Citrus Community College.
"I have so much love for this department," she said. "I had a gut feeling that this was the right place for me and I have grown more than I thought possible. Our faculty encouraged us to be the best creators and people we could be. There's a line from the movie, 'Dead Poets Society,' that says, 'Words and ideas can change the world.' We are going to change the world for the better. Thank you for inspiring us to go out and inspire others.
"To my fellow students, let's get out there and show the world what Titans are made of!"
College of Health and Human Development — Athletic Training, Health Science, Kinesiology, Public Health
"I congratulate each of you and thank you, not only for what you've already done, but what you will do in the future," Dean Laurie Roades said in her welcome to graduates, their family and friends, and urged them to remember: "What you do matters, but we also need you to lead in these careers."
Michele Wood, chair and professor of public health, noted the first six graduates to complete the bachelor of science degree in public health:  Bryan Calixto, Zachary Camacho, Josette Poulin, Eric Tu, Eun Seon Lee-shim and Brian Montano.
Kinesiology graduate Brian Stark shared how he has almost 200 hats from favorite teams, places he's visited or special events, but few that have been worn as much as his orange CSUF baseball hat. "I wear it with great pride," he explained, because graduating from CSUF is a long family tradition.
So he noted, he is equally proud of his new graduation 'hat' and to be able to honor "everyone wearing this hat today. As I put it on, I realized that this hat represents a great past, but unlike others, it represents a great future."
Danielle Rose, who earned a bachelor's degree in athletic training in January, congratulated all six of her fellow graduates. "We stand together today. We studied, we worked, we laughed and we cried, and sometimes even wondered if it was all worth it.
"It is. "