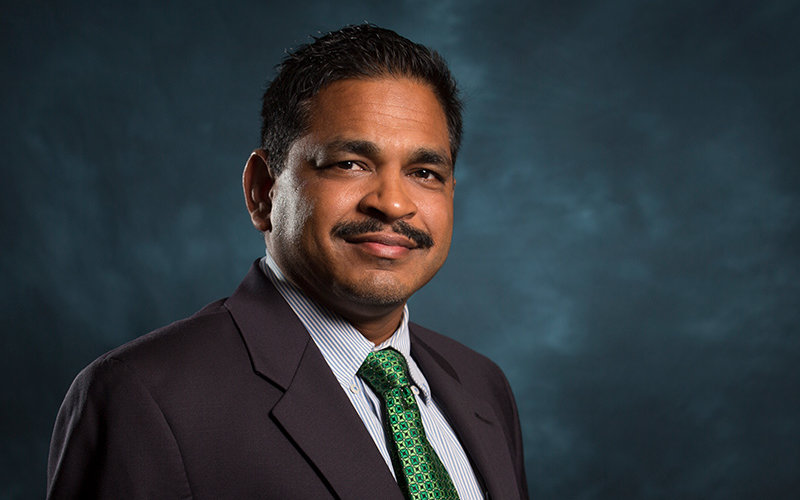 Several Cal State Fullerton faculty and students have received regional and national honors for their contributions to their fields and as mentors and educators in the classroom. Among recent honorees are:
Sudarshan Kurwadkar, associate professor of civil and environmental engineering, received the Outstanding Faculty Adviser Award from the Orange County branch of the American Society of Civil Engineering, in recognition of his contributions to the field. His colleagues commended him for his work, noting: "His dedication to student success, personalized attention to student design teams and student rapport are simply unparalleled. He engages undergraduate and graduate students in research activities and promotes environmental engineering education." Kurwadkar also is the recipient of the Outstanding Young Engineer Award from the Orange County Engineering Council.
Jon Bruschke, chair and professor of human communication studies, is the 2018-19 recipient of the National Debate Coaches Association Service Award. Bruschke is being honored for his meritorious and continuous support of high school debate.
Nicole Seymour, associate professor of English, was named a Ecocritical Book Award finalist by the Association for the Study of Literature and the Environment for her book,          "Bad Environmentalism: Irony and Irreverence in the Ecological Age." 
Jason Shepard, chair and associate professor of communications, was honored with the inaugural Sharon Dunwoody Early Career Award in recognition of his teaching and research excellence from his alma mater, the School of Journalism and Mass Communication at the University of Wisconsin-Madison.
Another faculty member from the College of Communications was also honored by his alma mater. Phillip Weir-Mayta, assistant professor of communicatios sciences and disorders, was elected to the Nu Sigma Upsilon Chapter of the Alpha Eta honor society and named Alumni of the Year at Nova Southeastern University in Ft. Lauderdale, Florida. Weir-Mayta earned his master's degree from the institution. In addition, the scholar recently co-authored the paper "Investigation of Feedback Schedules on Speech Motor Learning in Older Adults" that was published  the International Journal of Aging Research.
Geography and the environment graduate students Elois Joseph-Pieterse and Olivia Hinton were among the award recipients at the May California Geographical Society Meeting in Big Bear. Joseph-Pieterse won first place for her graduate thesis presentation "The Spice of Life: Changing Foodways of the Southern California Indian Immigrant Community"; Hinton won the Geosystems Award for the best graduate student paper on a physical geography topic with "Dendroclimatology in Yellowstone: Response of Trees Within the Greater Yellowstone Ecoregion, U.S.A."