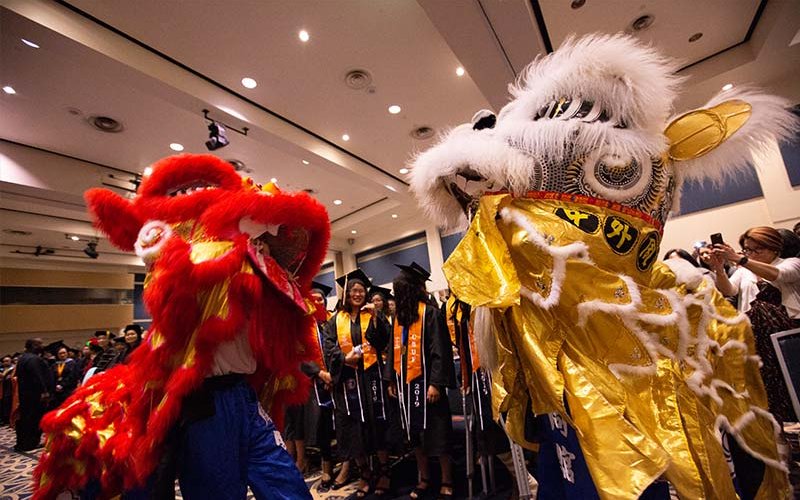 Toni Pettis was thrilled to be a part of this year's Pan-Afrikan Recognition Ceremony. Graduating in May with a bachelor's degree in child and adolescent development, the soon-to-be alumna was able to share her accomplishments with Cal State Fullerton professors, staff and friends "who made her college experience a memorable one.
"Cultural ceremonies are very important because they celebrate parts of our identities that often have no place in an academic setting," said Pettis, who has joined Teach for America as an Los Angeles-based special educator. "The Pan-Afrikan Recognition Ceremony is special to me because it recognizes how unique the experience of black students is. It honors our success in an intimate and personal way."
Pettis, who will pursue her teaching credentials as well as graduate studies in the future, was one of hundreds of students participating in cultural celebrations prior to the university commencement ceremony. They include the Asian Pacific American Desi American Recognition, Dreamer Recognition, Lavender, Pan-Afrikan Recognition, Pilipinx American Recognition, and Chicanx/Latinx and Native American Graduation celebrations.
The cultural ceremonies and celebrations are open to all graduating students regardless of ethnicity or sexual orientation.
"The identity-based celebrations are important events for our Titan community because they provide opportunities for our graduates to celebrate their accomplishments with the special people in their lives," explains Vincent Vigil, interim director of the Diversity Initiatives & Resource Centers.
Due to increased demand, he adds, the celebrations are outgrowing their venue — the Titan Student Union's Portola Pavilion — so other locations will be considered in the future. The Dreamers and Pan Afrikan celebrations, said Vigil, doubled in size this year.
The events are hosted by DIRC, the Chicano/Latino Faculty and Staff Association and the Pilipino American Student Association.