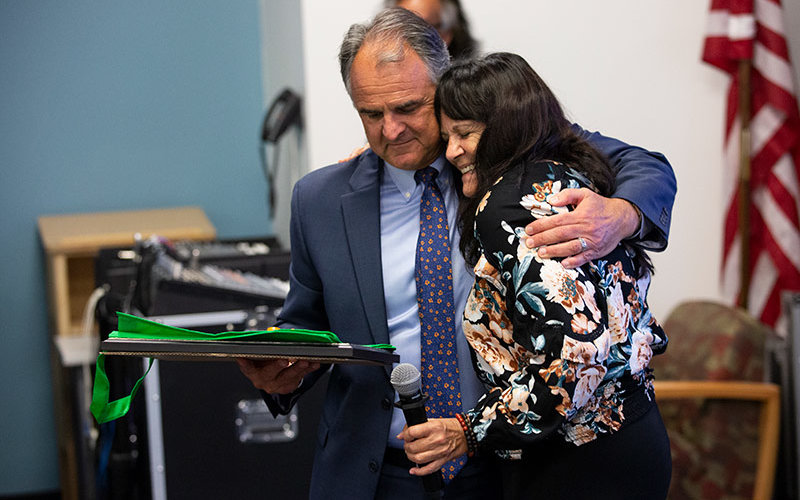 Faculty peers from across campus joined administrators and Cal State Fullerton President Fram Virjee in singing the praises of human services professor and department chair Kristi Kanel, whose service to the university was honored May 2 with the Faculty Leadership in Collegial Governance Award.
"She is engaged, present and hardworking," said Virjee before the enthusiastic members of the Academic Senate, who gave a standing ovation to the two-time CSUF alumna and veteran educator. "Her list of accomplishments is amazing … and probably not even complete!" 
Kanel "is a passionate voice for faculty and students on our campus," stressed Laurie Roades, dean of the College of Health and Human Development. "She is committed to supporting students and faculty and to doing so in an equitable manner."
"She clearly finds great meaning in her service, scholarship and teaching," notes Mia Sevier, professor of human services, adding that Kanel "is always one of the first people to volunteer for service and her very high level of dedication benefits our students, our department, our college, the overall university and the community."
Kanel joined the university in 1983 as a part-time lecturer and moved through the tenure track until she became a full professor. Over the years, she has taken on a number of leadership roles within her department and college, including participating on personnel and search committees, as well as serving as a faculty adviser to student clubs. Currently the department chair, she has regularly mentored students and her fellow faculty.
"She served as my faculty peer mentor when I first arrived at CSUF and was generous and helpful in her willingness to review my retention and tenure promotion (RTP) documents and provide important feedback," said Sevier. "She was an important source of support in my early years, and remains an involved and responsive colleague."
Campuswide, Kanel has been a member of the Academic Senate for 13 years, serving on committees ranging from elections, diversity and inclusion, and faculty research policy to the Provost's GI 2020 Thought Circle in 2017-18. She also served four years on the Faculty Personnel Committee, chairing the body during the 2015-16 and 2016-17 academic years.
"It isn't just that she virtually never misses a meeting — it is that she is always truly present," said Emily Bonney, dean of the Pollak Library and a former Academic Senate member. "She asks the difficult questions that other members may be reluctant to pose, and she presses for answers."
Eve Himmelheber, professor of theatre and dance, who served with Kanel on the Academic Standards Committee for 11 years, noted, "Kristi is a colleague who has distinguished herself in my mind by her ever-present, impassioned efforts championing for excellence in education, high ethical standards, empathy for the unique challenges facing today's students, and a vast historical context in which to view proposed action/modification to University Policy Statements."
"Dr. Kanel regularly demands action," Bonney added. "She demonstrates over and over again her recognition that real change comes through working together, not working against someone or something."
"I am especially struck by her work as chair of the ad hoc committee for restructuring the Department of Anthropology (now a division with three programs)," noted fellow academic senator Jon Bruschke, chair and professor of human communication studies, who nominated Kanel for the faculty honor. "Effective leadership certainly involves formal processes, but in my experience, informal actions that build collegiality and trust are truly the behaviors that do the most to improve the campus culture."
She received a standing ovation when her name was announced as the recipient of the award.
"It has been a pleasure to serve the Department of Human Services, the Academic Senate and the many groups I have been affiliated with over the years," she said. "I appreciate this recognition and I look forward to many more years of service."
In the community, Kanel has contributed to a wide range of community organizations, providing presentations and workshops, including the Orange County Alliance for Community Health Research, Big Brothers/Big Sisters and the YWCA.
The two-time CSUF graduate earned her master's degree in counseling and a B.S. in human services. She holds a doctorate in education/counseling psychology from the University of Southern California.