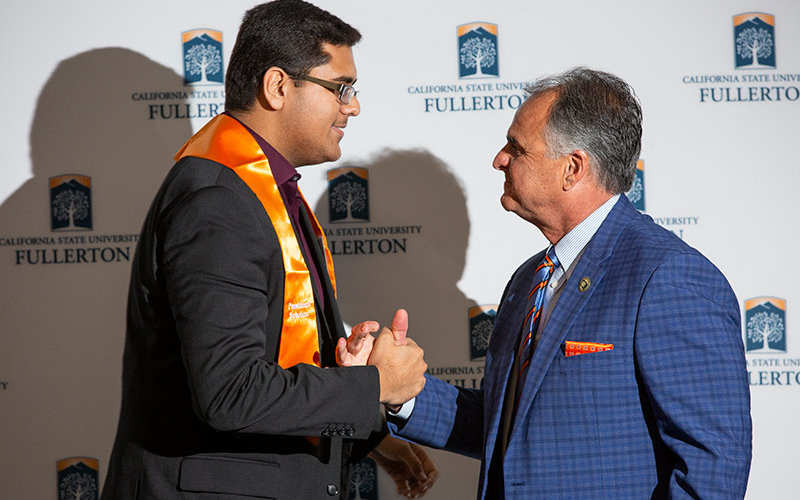 Gathering on a beautiful spring evening, hundreds of Cal State Fullerton faculty, staff, alumni, students and families celebrated the upcoming graduation of 16 President's Scholars and welcomed 17 new students to the program.
President Fram Virjee greeted the crowd and shared why "Fram's Fam," as the scholars are affectionately known, is so meaningful to him:
"It represents academic excellence — that's what the program is all about. Being selfless and service-oriented — that's also a hallmark of this group. Our scholars are particularly good at always reaching higher, and they're such great people and individuals.
"We have a graduation rate of 100% and a near perfect grade point average across the board," he continued.
Virjee reminded the graduating scholars, "CSUF will always be your home. While you have worked very hard to get to this point, much has also been given to you. Remember to pay that forward — remember to give as much as you have received, to Titans that come after you."
President's Scholars spend up to four years in a comprehensive, rigorous program that offers experiences and opportunities in academics, leadership, service and mentorship. CSUF was the first campus in the California State University system to establish the program, which now boasts 479 alumni over 40 years.
Speaker Shivani Patel, senior in biological science, reflected on her experience as a President's Scholar.
"I'm thankful for the opportunities that have kept me in motion. The laws of motion state that the motion of an object is dependent on an external force. And once in motion, an object stays in motion. We've all stayed in motion due to the program, and I don't expect us to stop here. I know each of you will continue to reach higher, as Titans always do."
Scholar Elaine Nguyen, senior in biological science-cell and developmental biology, joked, "This is the first time our President's Scholars class has been present together at the same time since freshman year."
She explained, "Our class was always unconventional. People were afraid that we weren't really becoming a family. But I believe our class has — maybe more than any other — fully embodied CSUF's definition of opportunity. We have taken opportunities and used them to grow and succeed — each in our own way."
Neel Deshpande, senior in business administration-accounting and information systems, was honored with the Verne Wagner Passion Award, for giving "above and beyond" to the program.
Deshpande, president of the President's Scholars Student Association, then presented the Community Partner of the Year Award to the nonprofit Best Buddies.
Sarah Jay '05 (B.A. history), board president of the President's Scholars Alumni Club, bestowed the President's Alumni Award Endowed Scholarship to incoming freshman Max Tobin of Ladera Ranch.
The evening ended with a "passing of the torch" where Julie Virjee, the president's wife, and senior Valerie Schlieder invited graduating scholars to present each incoming scholar with a key to welcome them to the group.
Members of the 2019 graduating class of President's Scholars are:
Shreshta Aiyar, B.A. history, American studies
Nathan Bui, B.S. biological science-cell and developmental biology
Neel Deshpande, B.A. business administration-accounting and information systems
Cassidy Foelsch, B.F.A. art-illustration and cinema and television arts
Colette Garcia, B.A. business administration-finance
Riley Greenough, B.A. English
Meggie Huynh, B.A. business administration-accounting
Nicole Kaylor, B.A. business administration-marketing and information systems
Elaine Nguyen, B.S. biological science-cell and developmental biology
Kristy Nguyen, B.S. biological science-cell and developmental biology
Shivani Patel, B.S. biological science
Margaret Riordan, B.A. theatre arts-specialized studies, design/technical production
Luke Rodriguez, B.A. political science
Valerie Schlieder, B.S. kinesiology-clinical movement science
Brianna Stempniak, B.S. biological science-cell and developmental biology
Allyson Weir, B.S. biological science-molecular biology and biotechnology