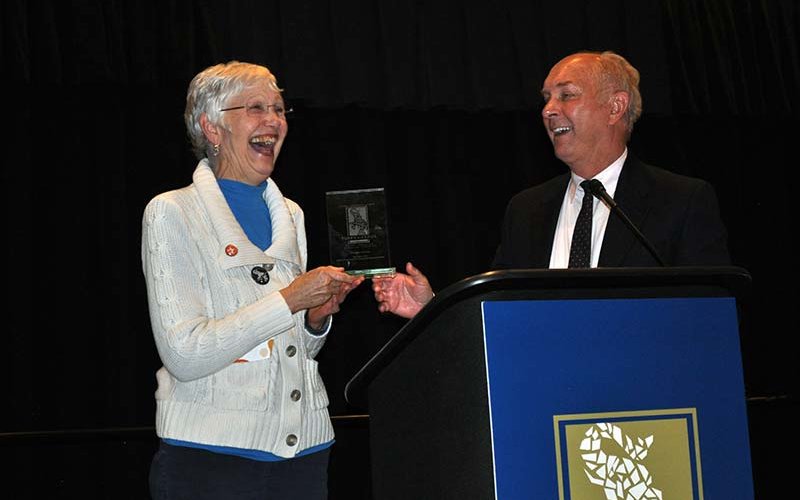 The fifth annual Tuffy Awards, held May 2, honored the contributions of the more than 350 registered student organizations at Cal State Fullerton.
"Tuffy Awards and Student Organization Appreciation Week recognize the important role our student organizations and their members play in cultivating a positive Titan experience," said Gleanne Kienzler, student organizations coordinator.
"This past academic year, we found that the average undergraduate student organization leader's GPA was 3.188. That is 0.268 points higher than the average undergraduate GPA of 2.92. It's really exciting to see the achievements and the impact our student organization leaders are making on campus."
Nominated by the campus community, the Tuffy Awards are sponsored by the Division of Student Affairs and the Student Success Initiative, and are part of Student Organization Appreciation Week.
Tuffy Award winners will be highlighted throughout the final event of the week — the Titan baseball game against University of California, Davis, Friday, May 3, at 7 p.m. at Goodwin Field, where the Advisor of the Year Terry Saenz, professor of communication sciences and disorders, will throw out the first pitch.
Clearly shocked by her win, Saenz said, "I want to thank everyone here who is a student leader. Sometimes people say young people are a little 'flaky' or whatever, but that's not true. That's not what I see every day. You are our future, and our future is looking really good."
Several students from the National Student Speech Language and Hearing Association that Saenz advises came to the Tuffy Awards cheer her on. "Dr. Saenz is more than an adviser," said Rebecca Case, membership chair for the club. "She is a mentor and advocate who has poured her effort, time and love into NSSLHA for years. It is an honor to have her as an adviser."
Recipients of this year's awards include:
Adviser of the Year: Terry Saenz, professor of communication sciences and disorders, National Student Speech Language and Hearing Association
Titans in Action Award: Circle K International
 
Emergent Organization of the Year: Women in Animation
 
Outstanding Advocate: Griselda Aguirre, senior in sociology
 
Collaborative Program of the Year: Titan Night Market — Asian Pacific American Resource Center, Women and Adult Re-entry Center, ASI, Indian Student Association, Philipinx American Student Association, Nikkei Student Union, Queer Trans People of Color Collective, Vietnamese Student Association, Japanese Culture Club, Student Association for Asian American Studies, Multicultural Greek Council
 
Outstanding Program in Academia: Dunk the Deans, Business Inter-Club Council
 
Outstanding Program in Diversity & Inclusion: Portfolio Tips & Strong Female Character Development with Emily Dean, Women in Animation
 
Outstanding Program in Recreation and Sports: Sports Swap, Sports Club Inter-Club Council and Archery Club
 
Program of the Year: What If Week, Child and Adolescent Studies Student Association
 
President of the Year: Ginny Oshiro, senior in criminal justice, Rebound Scholars
Student Organization of the Year: Circle K International
 
Titans' Choice Award: Business Inter-Club Council
 
Titans Leaving Their Legacies: Mirvais Aminy, senior in sociology; Omar Hernandez, senior in communications; Ethan Young, senior in business administration-marketing and human resource management
 
Dean's T.E.A.M. (Taking Extraordinary Action to Make a Difference) Award: Ana Aldazabal, senior in communications-advertising; Kevin Fields, senior in business administration-accounting; Oscar Olazabal, senior in computer science; Tyra Reed, senior in American studies; Ryan Shim, master's student in computer science; Matthew Vasquez, freshman in linguistics; Daniel Walsh, senior in computer science; Janeen Yamak, sophomore in music
Graphic Design and Apparel Competition: Poster/Flyer Design — Women in Animation; Apparel Design — Pencil Mileage Club