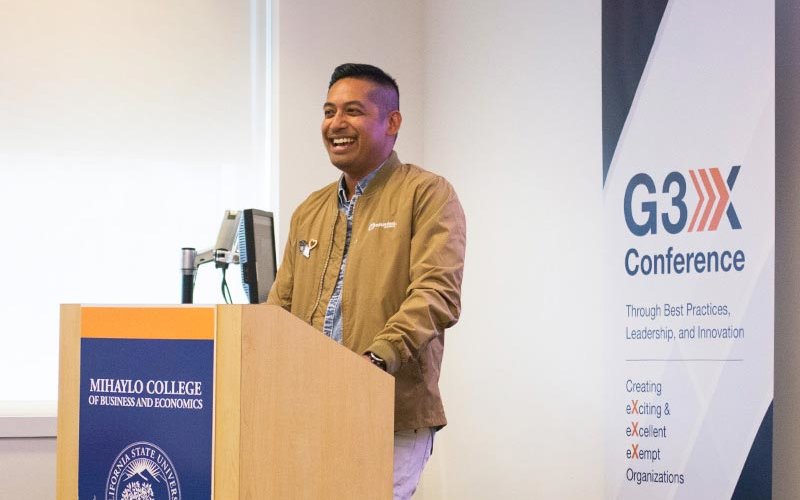 NASA's Curiosity Mars rover will be among the keynote speakers at the Aug. 12-15 G3X Conference hosted by Cal State Fullerton's Gianneschi Center for Nonprofit Research. Sort of.
Those expecting to see the car-sized spacecraft with robotic arms will be surprised when Stephanie L. Smith, digital and social media lead at NASA's Jet Propulsion Laboratory, takes the stage. Smith is the voice of Curiosity on social media; she has conversed with the public and journalists on more than 20 space missions.
The Rev. Greg Boyle, founder of Homeboy Industries, the largest gang intervention, rehab and re-entry program in the world, and Frances Phillips, program director for the arts at the Walter and Elise Haas Fund and co-author of "The Nonprofit Kit for Dummies," also will provide keynote addresses at this annual conference for nonprofit and social enterprise professionals.
"Eighty percent of organizations in our sector struggle," explains Zoot Velasco, director of the Gianneschi Center. "Our goal is to bring the most successful innovators in our field from across the world (and the galaxy, if you count the Mars rover) to create a TED-like conference for the social sector. We want to show participants how others 'G3X' — grow eXciting, eXcellent eXempt organizations."
The conference agenda features a wide array of business leaders and nonprofit experts, including several CSUF faculty, staff and alumni:
Amir Dabirian '85, '88 (B.S., M.S. engineering-electrical engineering), vice president for information technology/CIO at CSUF
Robert Santana '06 (B.S. child and adolescent development), CEO of Boys & Girls Club of Central Orange Coast
Jason Szolomayer '02 (B.A. business administration-finance), CEO of 3dp4me
Victoria Torres, '06, '10 (B.S. human services, M.S. counseling-marriage and family therapy), director of organizational development at OneOC
Pre-conference events Aug. 9-11 include the G3X CEO Accelerator, a 32-hour intensive training retreat on nonprofit leadership, and sessions on board development and grantsmanship.
All G3X activities will be held in Cal State Fullerton's Mihaylo Hall, 800 N. State College Blvd., Fullerton, 92831. Visit the G3X Conference page for pricing and registration information.
The Gianneschi Center for Nonprofit Research, part of the Mihaylo College of Business and Economics, helps nonprofits and the community better understand the work of the philanthropic sector, and it supports the work of Orange County's charitable organizations as the repository for data about the sector.