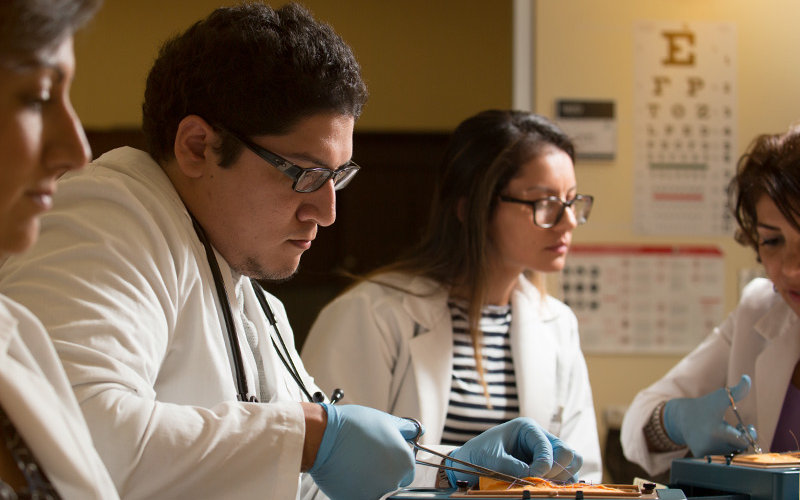 Cal State Fullerton students interested in getting advanced degrees in such medical fields as dentistry, pharmacy, podiatry — even veterinary medicine — have options for special admission consideration, thanks to linkages the university's Health Professions Program has formed with professional schools.
This year, the university has established a partnership with Ross University School of Veterinary Medicine, as well as expanded the linkage with Western University of Health Sciences to help offer access to its dentistry program.
Linkages accelerate the application process and eliminate the need to apply to multiple schools, explains Michele Mouttapa, professor of public health and Health Professions director and adviser. By eliminating multiple applications, it significantly reduces the cost of the application process since travel expenses for interviews can cost up to $5,000 for each application cycle.
Pre-Health Professions Certificate students also have the benefit of saving time by skipping the "glide year," which is the year between completing the program and entering a professional school. The year is usually used to prepare professional school applications, Mouttapa added.
The two additions bring the total number of linkage programs to 12 for the university:
Marshall B. Ketchum University – pharmacy and physician assistant
St. George's University School of Medicine – allopathic
American University of Antigua College of Medicine – allopathic
Lake Erie College of Osteopathic Medicine – dental, osteopathic and pharmacy
Western University of Health Science – osteopathic, pharmacy, podiatry
Cal State Fullerton's Health Professions Program was established in 1963 and offers advice on career choices and majors, as well as support and assistance on preparing personal statements, and secondary applications and practice interviews.
In 2018, 167 Cal State Fullerton students applied to medical school and 55 were accepted, an acceptance rate of 33 percent, according to the American Medical College Application Service. Nearly 51,000 students nationwide applied to medical school and more than 21,000 were accepted, an acceptance rate of 42 percent – less than 10 percentage points higher than the CSUF average.