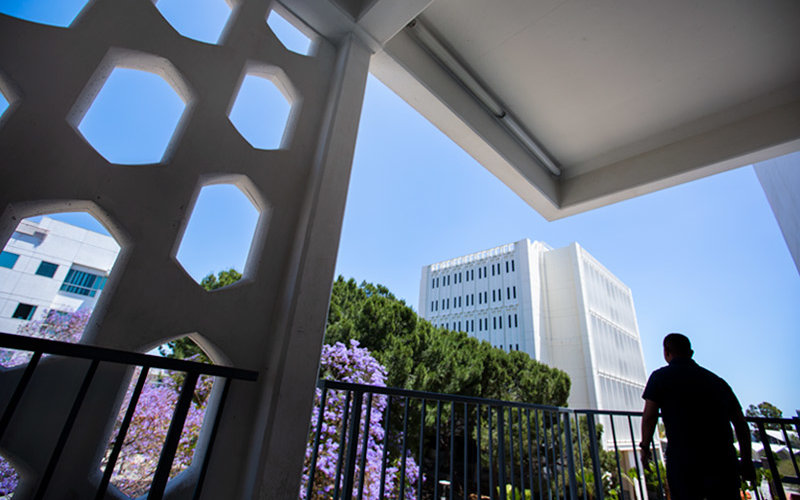 Programs and services that Cal State Fullerton offers to area schools and businesses are among the research and efforts that have received more than $6 million in funding during the period of April 1 through June 30. Funding recipients include:
Michael Daniel, regional director, and Katrina Payne-Smith, associate regional director, of the Small Business Development Center: $2,065,076 award from the U.S. Small Business Development Center for the continuing oversight of the "2019 California OC/IE SBDC." Mihaylo College of Business and Economics has been responsible for the administration of a lead and regional centers for Orange, Riverside and San Bernardino counties since 2003, providing training, consulting and technical assistance to businesses with less than 500 employees.
Laura Gil-Trejo, director of the Social Science Research Center: $1,064,933 Sonoma County Junior College District contract on behalf of Santa Rosa Junior College for a "2019 Survey of Former Community College Students" project.
Dawn Macy, director of the Center for Internships and Community Engagement: two awards of $933,394 and $84,190 from the Tustin Unified School District for the Titan After School Education and Safety Program offered at Tustin middle and elementary schools, and Titan Tutors program offered at Tustin, Foothill and Beckman high schools and Utt Middle School. In addition, Macy and the center were awarded an additional $45,000 funding from Cal State San Bernardino's University Enterprises Corporation for the "Disadvantaged Communities Involvement Technical Advisory Committee Project." 
Stephanie Vaughn, professor and director of the School of Nursing: $495,535 U.S. Health Resources and Services Administration award for "EMBRACE: Enrichment Markers of Better Relationships, Academics & Cultural Enhancement." This is the third year of federal funding in support of the program. 
Kelvin Billingsley, assistant professor of chemistry and biochemistry: $319,500 continuation award from the National Institutes of Health for the project "Hyperpolarized 13C Probes for Imaging Warburg Metabolism in Cancer."
Joshua Yang, associate professor of public health: $277,298 award from the Regents of the University of California, Office of the President, for "A 'Digital' Mixed Methods Evaluation of University Tobacco-Free Policies." Related: New Smoking Age Sparks Debate
Archana McEligot, professor of public health: $194,307 in fifth-year funding from the National Institute of Health, National Institute on Minority Health and Health Disparities, for the "Big Data Discovery and Diversity Through Research Education Advancement and Partnerships (BD3-REAPF)" project. The effort has received more than $1 million in funding. Related: Grant Opens Doors for Big Data Research
Phillip Gedalanga, assistant professor of public health: $148,747 from the South Orange County Wastewater Authority for the project "Application and Validation of Microbial Source Tracking Biomarkers as Indicators of Fecal Pollution in Natural and Engineered Environments Throughout South Orange County, California."
Geoffrey Lovelace, associate professor of physics: $81,641 National Science Foundation Faculty Early Career Development Program (CAREER) award for the "Computational Gravitational-Wave Science and Education" project. The project is in its third of anticipated five-year funding. Related: National Science Foundation Honors CSUF Physicist
Adriana Badillo, interim director of educational partnerships: $76,621 City of Anaheim award for "Anaheim Public Utilities College Internship Program."
David Pagni, professor of mathematics: $70,823 funding from the Regents of the University of California-UC San Diego for the "Mathematics Diagnostic Testing Project (MDTP) 2019."
Kenneth "John" Faller, associate professor of computer engineering: $63,829 University of West Florida award for the "Investigating Cyber-Physical Threats of Numerically Controlled Manufacturing Process/Validation of Numerically Controlled Manufacturing Process."
Shana Charles, assistant professor of public health: $45,993 from the Regents of the University of California – UCLA for the "California Health Interview Survey 2015-16 Policy Research Studies." Charles also received a $30,000 UCLA Center for Health Policy Research award for the project "California Health Benefits Review Program (CHBRP) Policy Analyses."
Zair Ibragimov, professor of mathematics: $42,500 University Enterprises Inc. award for the California State University-Louis Stokes Alliance for Minority Participation program project, "Summer 2019 CSU-LSAMP International (Uzbekistan)."
Dorothy Woolum, professor emeritus of physics: $30,500 in second-year funding from the California Technical Institute for "Genesis Samples: Analysis and Technical Enabling."
Michael Boytim, lecturer in nursing: $27,645 from the U.S. Department of Health and Human Services for the Nurse Anesthetist Traineeships program. The three-year, doctoral-level program is offered in partnership with the Kaiser Permanente School of Anesthesia, where Boytim serves as an assistant director.
Nicholas Salzameda, associate professor of chemistry and biochemistry: $25,000 Allergan Foundation funding for the "CSUF Research and Education in Drug Discovery Program, 2019-2020."
Pamela Madsen, professor of music: $10,000 National Endowment for the Arts grant to support the commission and premiere of a new work during the CSUF New Music Festival. Related: NEA Helps Create Music at Zzyzx