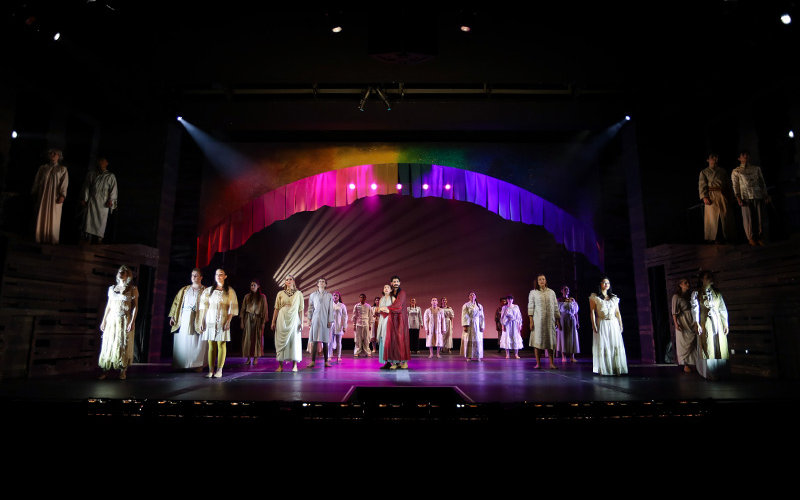 It's love and laughter, drama and heartache in the wide-ranging 2019-20 theater and dance offerings at Cal State Fullerton. The season begins even before the performances do, as students participate in all aspects of the production — from the front of the stage to behind the scenes, including set, sound, scenic, costume design and makeup.
The stage will be set for the first fall production in October with the magic and music of "Beauty and the Beast: The Broadway Musical" and continues with the dark, contemporary satire of "The Moors," the drama of "Jane Eyre – the Musical," the romantic comedy "As You Like It," and in December, the Fall Dance Theatre.
Based on the Academy Award-winning Disney feature and book by Titan alumna Linda Woolverton '79 (M.A. theatre arts), "Beauty and the Beast" tells the love story of Belle and Beast, a prince trapped under the spell of an enchantress. The musical runs Oct. 11 through 27 in the university's Little Theatre.
Deception and illusion hide in plain sight in "The Moors," a tale about two sisters living in a secluded English manor on the moors. The production will be performed Nov. 1-17 in the Hallberg Theatre.
Alumna Eve Himmelheber '95 (M.F.A. theatre arts-acting) directs the Nov. 15-Dec. 7 campus production of William Inge's "Picnic," where a young drifter upsets the balance of a small 1950s Kansas town. The show will be performed in the Young Theatre.
Concluding the fall semester productions is the Fall Dance Theatre, coordinated by Lisa Long, associate professor of dance, and offered Dec. 5-15 in the Little Theatre. The annual production features works created by faculty and students. 
The spring season includes "Jane Eyre – the Musical" March 13-29, "Vinegar Tom" March 27-April 19, "As You LIke It" April 17-May 3 and Spring Dance Theatre April 30-May 10.
Details about FlexTix subscriptions or purchasing individual tickets may be found online. Patrons may call 657-278-3371 for information from the Clayes Performing Arts Center Box Office beginning Monday, Aug. 26, from 11 a.m.-5 p.m. Monday through Friday .